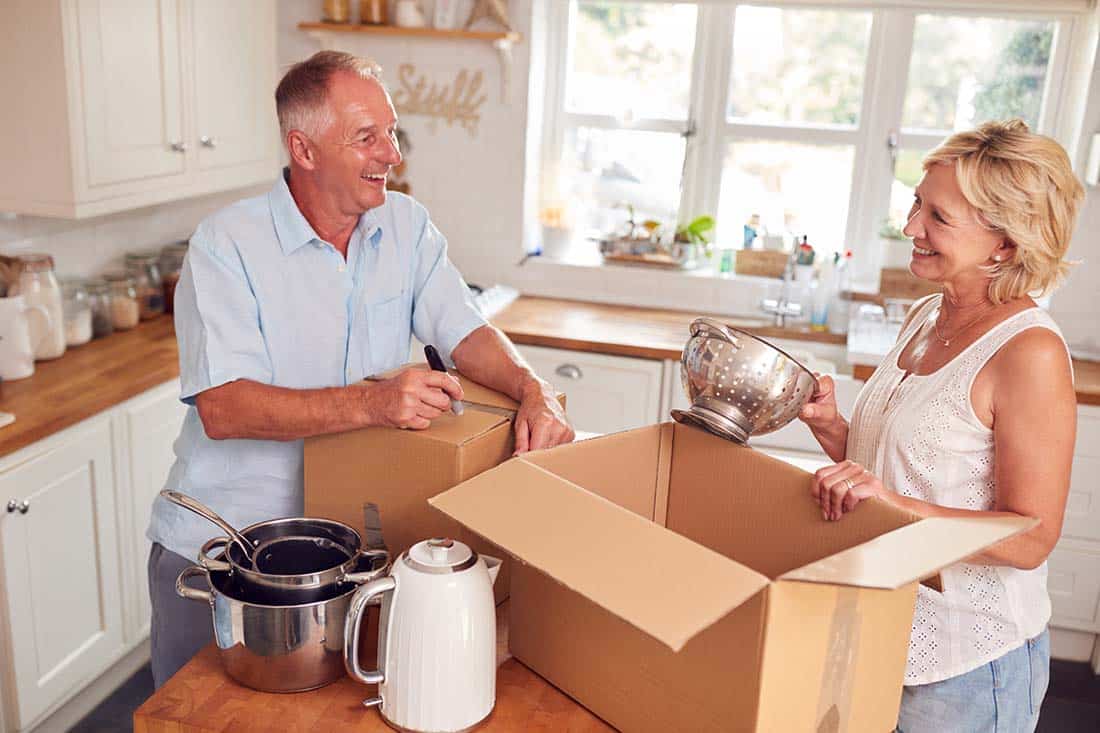 Downsizing Tips for Your Move to Assisted Living
March 13-19 is "Clean out Your Closet Week"! Clean closets are excellent, but we'd like to dive into downsizing. If you're like so many others, parting with things you've had for 30 years can be stressful! What stays and what should go when you move to assisted living?
Kitchen and Dining:
Depending on your kitchen setup, your kitchen and dining comforts may vary. Many assisted living communities are like Edgewood, and they will provide you with snacks and meals. Packing the essentials for an extra snack in your room might be all you need. Once you move in, you won't need five crockpots, nesting bowls, or a maze of muffin tins—we've got all of that covered!
Bedroom:
Bring what makes your new bedroom a cozy place to be. Afghans and quilts are beautiful and comfy, but choose a few and gift the excess. If they're sentimental, keep them in the family. They make excellent gifts for grandkids headed off to college, or just nice extras to have on hand for when you stay with your family during the holidays.
Closets:
Shoes, shoes, and more shoes. Try them on; if they're no longer comfortable or they could cause you to slip, rethink those soles. If you haven't worn certain clothing items in years, perhaps you don't want them taking up real estate in your new apartment. Thrift shops are great spots for excess clothing you don't wish to keep. Bring the clothing and outerwear you need; we usually recommend about ten outfits, because weekly laundry services are included!
Garage:
When you move to senior living, there's no need for shovels, rakes, or buckets of ice melt. Make seasonal chores easier for your friends by giving these away, or donate them to your local Habitat for Humanity ReStore, a church, or another organization that could benefit.
You won't be tasked with vacuuming and mopping once you move to senior living. You won't need a step ladder for reaching high, because we've got changing light bulbs covered, too!
"Housework can't kill you, but why take a chance?"
Bathroom:
Do you own perfume as old as the Reagan administration? Say sayonara to those unnecessary scents. Pack your toiletries, a few towels, washcloths, and preferred bathroom décor.
If you have durable medical equipment like shower chairs or extra grab bars you no longer need because your new bathroom is accessible, be sure to donate this equipment to whoever could use it.
Keepsakes:
Trinkets and treasures can be hard to part with, but they're much better with your loved ones. Try to keep these to a minimum if you can.
Décor:
Senior living lets you be you! You can bring whatever you'd like to decorate your walls and space, as long as it's safe and doesn't clutter your walkways. If you have umpteen picture frames filled with memories, consider downsizing some of them into scrapbooks or photo albums to save room.
Enjoy Your New Space!
Without unnecessary stuff in your new apartment, you'll have much more room for activities! We hope that the senior living solution you've chosen has a lot of amenities, outings, and fun to keep you busy and enjoying your retirement years. The more your community has to offer, the less you need to pack!
If you're interested in senior living solutions at Edgewood Healthcare, we offer 55+ living options, independent living, assisted living, memory care, and short-term stays. We also provide on-site healthcare to keep you healthy and on the move. Looking for a specific apartment style? Check in with us at info@edgewoodhealthcare.com.