As our loved ones begin to age and experience a different set of challenges surrounding their health and selfcare, the journey can be overwhelming for the whole family.
While being a caregiver is a fulfilling job, it can also be challenging and stressful. Oftentimes this role is something you didn't plan or prepare for, and your loved one may need more care than you are able to provide.
When we feel responsible for the care and wellbeing of our loved ones, thousands of questions begin racing through our minds. Does my parent need more care than I can offer them? What more could I do to keep them at home for as long as possible? How do I know when it's the right time to discuss my loved one moving to a retirement community with full-time care?

You are not alone, and you have many options for how to help your loved one live their best life. It is also important to remember to be caring and compassionate with yourself during this journey with your loved one.

The stresses of being a caregiver can at times be overwhelming and exhausting. Here are some helpful tips you can start using today to take care of yourself.

Find ways to relax
Managing your stress level is key to keeping yourself healthy and happy.
Focus on the positive
Know that you make a difference, but be realistic—you can't control everything. Enjoy the good memories and grieve the losses.
Give yourself credit

You're doing your best, so don't feel guilty. It's normal to feel like your care falls short sometimes.
Give yourself a break

Seriously, take a break! No one can do it all by themselves, and it's normal to feel like you need one. Take it.
Accept change
Research care options now so you can have the information you need when your loved one needs more intensive care.
As difficult as this step may be, know that you are not alone and that you have the love and support of many others who are in a similar situation, or care providers that can help you.

At Edgewood Healthcare, our priority is to help you help your loved ones live the fullest life possible.
Our team of professionals, from administration and dietitians to physical therapy and memory care, all have the same goals in mind: to support you and your loved one while keeping them safe, comfortable and living their best life.
Our programs and services include: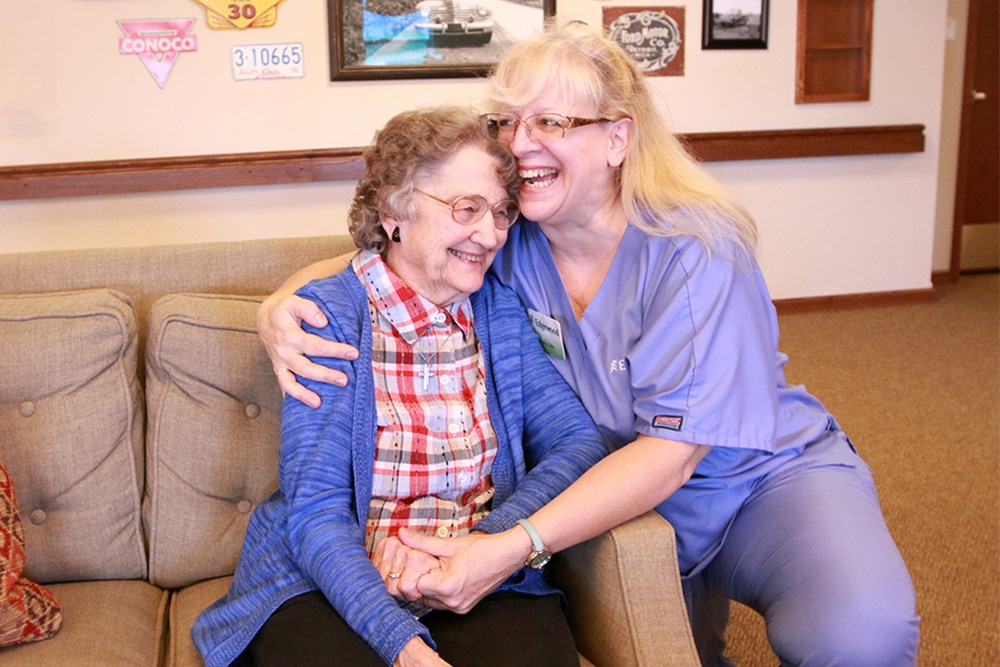 Our company is large enough that we can offer you and your loved one all of the benefits of a full-service senior healthcare provider, yet each individual community is small enough to be there for each and every resident's daily life in order to offer them the best care.

Advocacy
Every team member at Edgewood is dedicated to the advocacy of each resident's health, safety and happiness. We truly care about your loved ones and do everything in our power to give them exceptional care and an environment that allows them to thrive in their golden years.
Enrichment
Our care and programs are all based around enriching the lives of our residents. From community activities that foster connections and homemade meals with dietician-approved options to medication reduction and fall reduction programs, our well-rounded services give your loved ones the ability to excel in their daily lives.
Education
You don't know what you don't know. Our team is here to help you and your loved one understand more of what you're going through and give you options and knowledge to make the best, informed decision for what's right for you and the health of your loved one.
For additional caregiver support information or to learn more about how our services at Edgewood can help your loved one excel in health and happiness, contact us today.