When Harold Weidler stepped into the Edgewood Healthcare community in Minot years ago to explore memory care options for his wife, Lois, he didn't know he'd later become a resident.
Despite being in his 80s at the time, the farmer was still active on his homestead near Minot – even if his days consisted more of "ice cream meetings" with loved ones than farming duties. Harold was content with his life and didn't think a move was necessary.
However, after Lois passed away three years ago, Harold's health began to change. He experienced several falls in his home due to knee pain, and his family began to think about options that would help him gain back physical strength and allow him to continue living independently.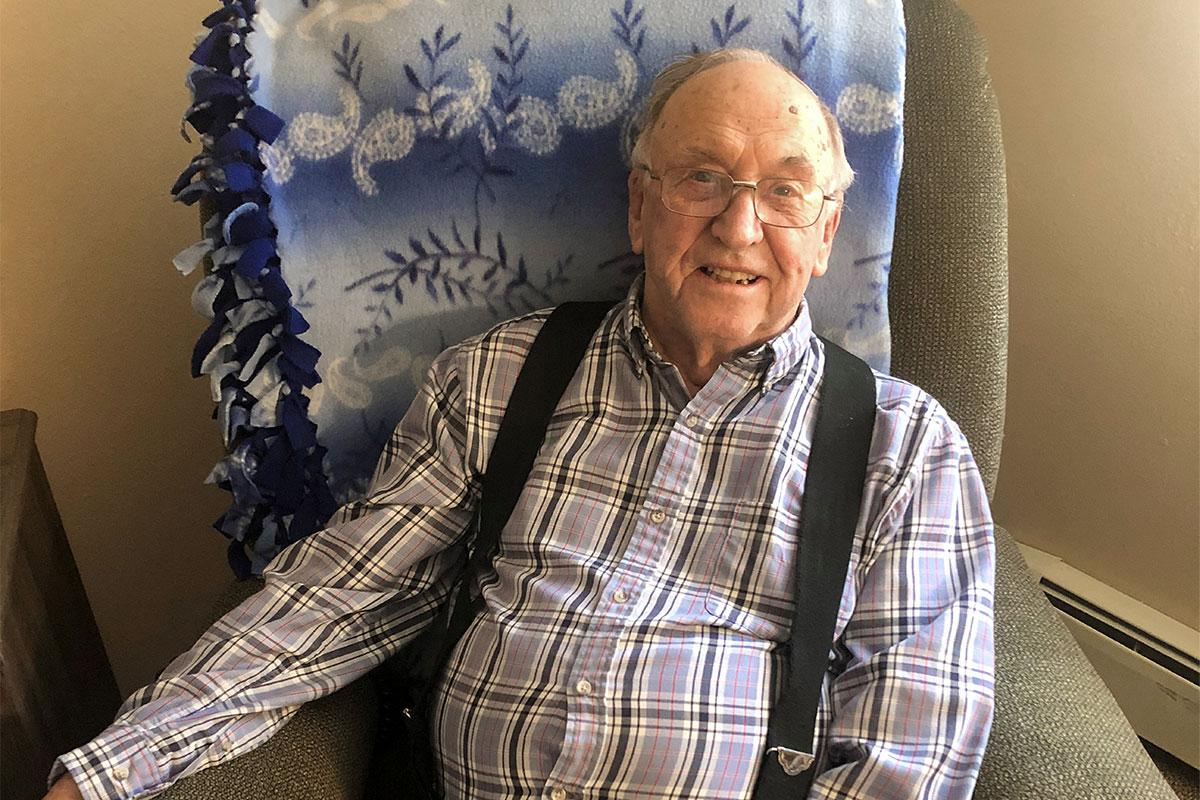 As the Regional Vice President of CaringEdge, Edgewood's Health Services division, in North Dakota and Minnesota, Harold's grandson Brendan Weidler became a go-to resource for his family. He thought Harold would be a good candidate for Edgewood's Short-Term Stay service, as Harold would be able to receive physical therapy with Edgewood's in-home providers without permanently moving in.
Brendan and his family agreed to propose the option to Harold, but they wanted to make sure the conversation came from a place of love without putting pressure on him. It was, after all, his decision.
Brendan approached his grandfather with a proposal of eight weeks in Edgewood's Short-Term Stay program. To this day, over a year later, Brendan remembers feeling "the most nervous I've ever felt talking to my grandpa," he recalls.
"I didn't want to push the idea to live at Edgewood, especially since I was an employee," Brendan says. "But I had seen some of the success stories that we've had with other people with similar experiences. I saw an opportunity and approached it from more of an informational aspect to see if he wanted to give it a shot."
That was on a Thursday back in October 2018. Harold moved in the following Monday.
"Brendan was the one that got me to come. He's always picking on me quite a bit," the 91-year-old quips with a twinkle in his eye.
Small steps, great progress
After working with Edgewood's physical and occupational therapists for a couple of months, Harold showed progress. A lack of confidence, largely attributed to fear of his knee giving out, was now replaced by Harold walking on his own all the way across the building with less pain and more stability. As his endurance improved, it reinvigorated his confidence and sense of independence.
"The staff had to buy new tennis shoes to keep up with him," Brendan laughs.
Once he finished outpatient therapy a few months later – equipped with a new knee brace – Harold was cleared to return to his farmstead. But after getting to know the Edgewood staff and residents and participating in the many activities going on in the community, he felt like he was already home.
"He came to my office one day and said, 'Well, they're transitioning me out of outpatient therapy. You don't think they're going to kick me out, do ya?'" Brendan recalls as Harold chuckles next to him. "I told him he could stay as long as he wanted."
From that day forward, Harold was a permanent resident at Edgewood in Minot, and it was "just like home as far as I was concerned," he says.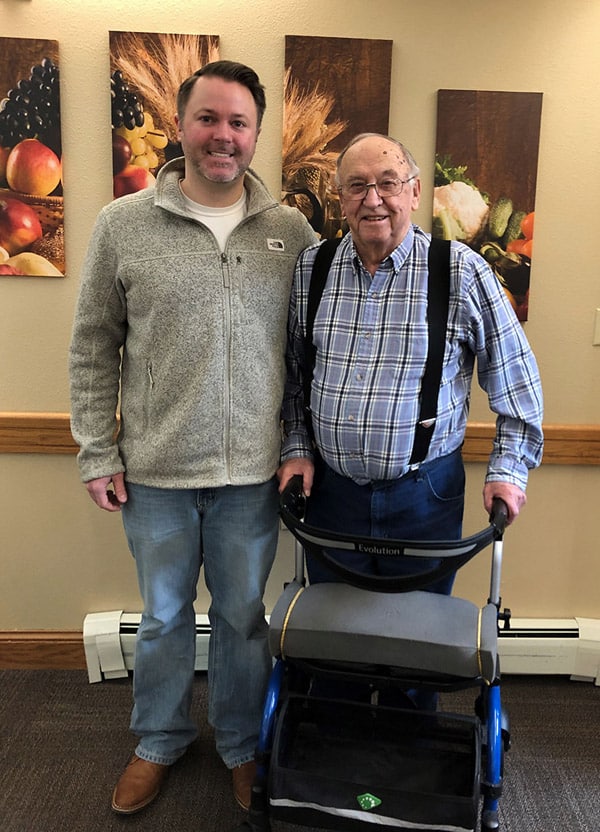 "It's a great place to be. When you've got something hurting, they'll help you. And you meet a lot of friends," Harold adds. "Every time you walk out (into the common areas), you've got to say hi to everybody."
"He's always running into people he didn't know lived here (in the Minot Edgewood community) that he knew earlier in life, too," Brendan adds. "Every time I see him, he has a smile on his face and seems to get along with the residents and staff."
"Something for everybody"
Harold continues to be an advocate for Edgewood Healthcare, and encourages any fellow seniors who are experiencing a healthcare story like his to look into their options and get the help they need.
"It's all about your attitude," he says. "Don't be afraid and come on in. There's something for everybody."
To explore home and healthcare options at an Edgewood Healthcare location near you, visit our Find Community page or contact us today to learn more.
Please note: Photos and interviews in this story were taken and conducted before COVID-19. Edgewood Healthcare still has visitation restrictions in place to keep our residents safe. Visit our Find Community page to learn the specific precautions in the community near you.