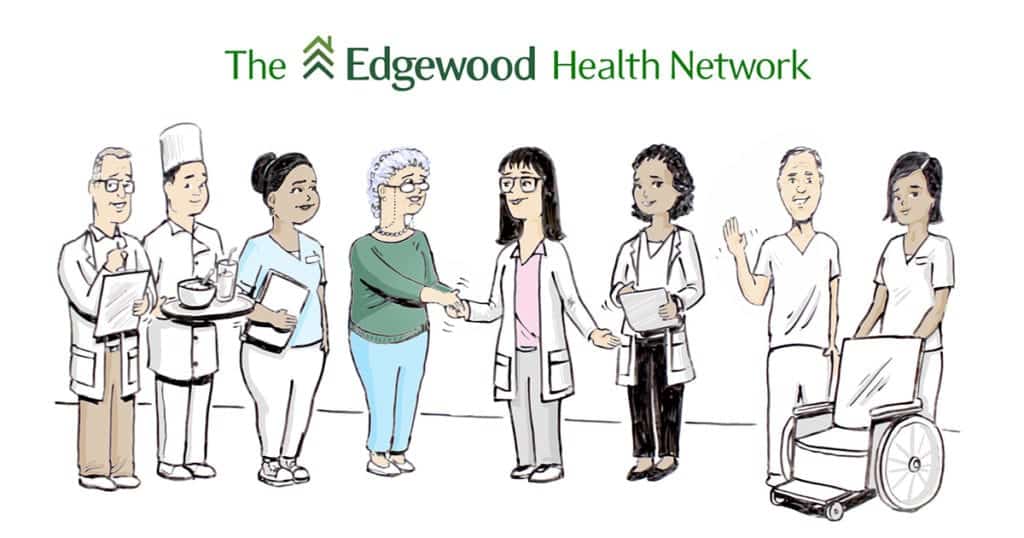 At Edgewood Healthcare, we believe in maximizing quality of life for our residents and promoting independence through premium housing and convenient access to the best health practitioners in every community.
These values have been at our core since we opened our doors in 1992. Over the years, we've adapted and expanded our services to ensure seniors around the region continue to thrive physically, socially, and emotionally. With 2020 upon us, we are ready to begin the new decade with an initiative that builds upon the care our residents already receive, and that is the Edgewood Health Network.
What is the Edgewood Health Network?
The Edgewood Health Network is a holistic team of preferred healthcare providers who partner with us to provide the right care plans, medications, and services to our residents in the comfort of their own homes.
The network includes physicians, nurse practitioners, home health, hospice and therapy providers who are hand-selected to "meet our standards of care for our residents," says Jill Leonardi-Wilson, Executive Vice President of the Edgewood Health Network.

The beginning stages of the network are already in full-swing at Edgewood Healthcare – particularly the establishment of In-Home Providers in all locations – but the initiative will continue to expand to all 64 Edgewood Healthcare communities in seven states starting in 2020, Wilson says.
"We are the first of our kind that's built a network of care," she adds. "Our residents deserve the highest quality of care, so part of the rollout strategy is to be selective of our healthcare partners to make sure they share our philosophy."
Your healthcare story, your choice
Although Edgewood Healthcare residents will have access to all practitioners in their local Edgewood Health Network, residents still have autonomy over their individual healthcare stories because "healthcare is about choice," Wilson says. When seniors join an Edgewood community, they are not required to change doctors. In fact, we encourage residents to keep their Primary Care Providers, and all specialists in our network regularly communicate with them to stay up to date on every resident's care plan.
"It is a real professional courtesy between healthcare providers to make sure communication is open," Wilson says. "Electronic health records make communication seamless, and it's written into our agreements all medical professionals communicate and collaborate because that continuum of care is so important."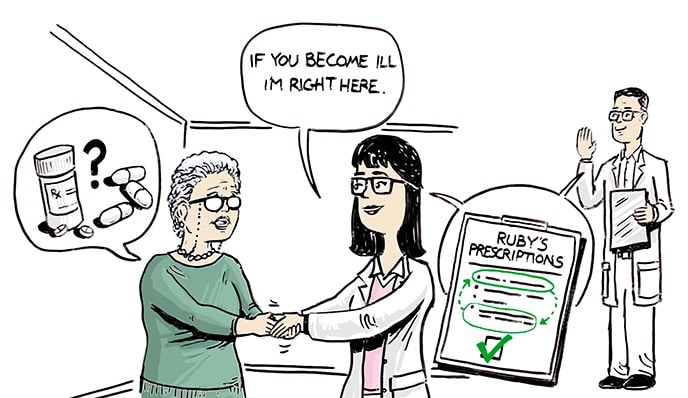 However, if an emergency arises and a resident's Primary Care Provider is not available, one of our In-Home Providers can step in right away. This model has already been well-received by local hospitals and healthcare groups, Wilson says, as they realize it can be "complicated for seniors to go out and visit them" due to mobility issues, especially in the winter. It also cuts down waiting room time, she adds.
"We all have a common goal of decreasing hospitalizations and emergency room visits, so as a healthcare community, (practitioners outside of our network) see this as an adjunct to work together and impact all people who need care," she says.
Quality care and prevention efforts in daily life
Healthcare is not just for when a resident is sick or breaks a bone. Preventing incidents like this are at the foundation of the Edgewood Health Network. Our compassionate nurses are our boots-on-the-ground to monitor daily needs for our residents, like taking blood pressure, dispersing medicine and helping seniors follow procedures that decrease falls.
"(Our nurses) know our residents really well, so they are able to tell when a resident has had a change in conditions and notify our In-Home Provider right away," Wilson says. "They're treating things like colds, coughs, sinus infections, dehydration, and other chronic health issues seniors face that can have large consequences if they're not addressed right away."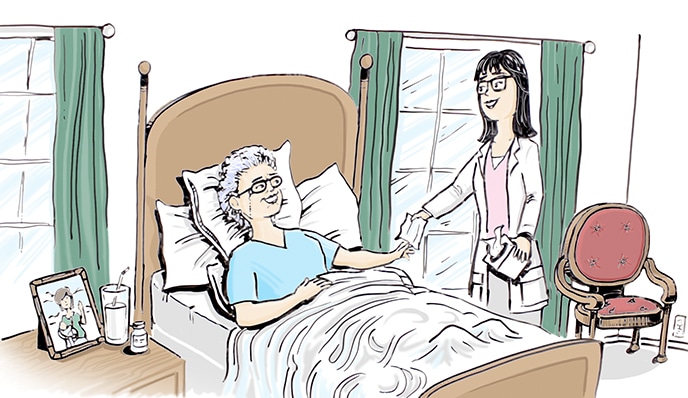 Therapy, home health, and hospice care
The Edgewood Health Network also includes therapy, home health and hospice care services through CaringEdge to accommodate residents in every chapter of their healthcare stories, no matter what plot twists may occur. Edgewood Healthcare recently launched CaringEdge services after recognizing a critical shortage of hospice and home health services in the communities we serve. Currently, physical and outpatient therapy is offered at 22 of our communities and hospice services at five communities.
"Edgewood was proactive in looking at how we can meet the need for home health and hospice care," Wilson says. "We did a lot of detailed analysis to see where there was a shortage and where we can make the most impact."
Like other services in the Edgewood Health Network, these services will continue to expand to other communities in the new decade.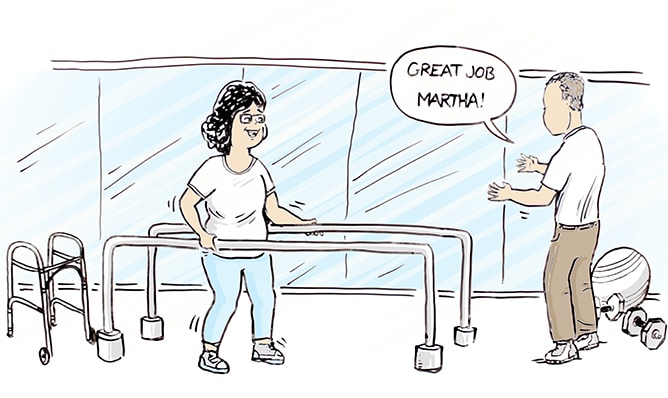 Meeting seniors 'wherever they are' in their journey
Overall, Wilson says the goal of the Edgewood Health Network is to optimize the quality of life for all of our residents and make healthcare much more convenient for the senior population.
"We want the services to come to them, and we want them to stay in their homes as long as possible," she says. "When we think about what makes Edgewood unique, we want to support seniors wherever they are. We want to be a solution."
If you think Edgewood Healthcare could be a good solution for you or your loved one, contact us today or find a community near you.