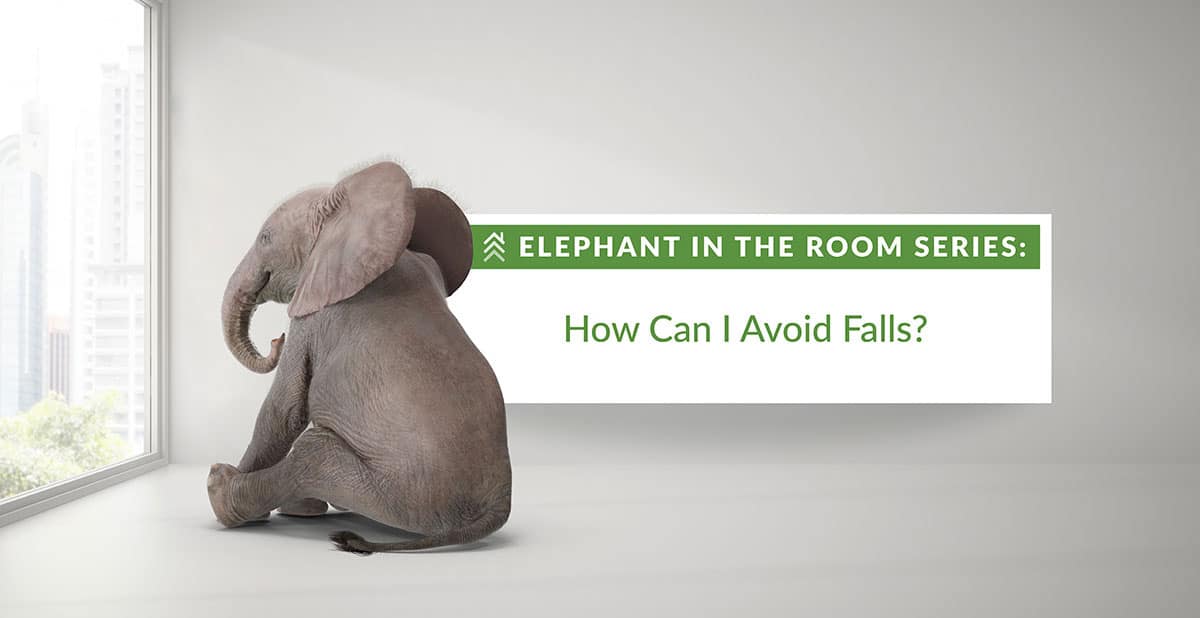 Avoiding falls? That sounds much easier to say than to do! Falls can happen so quickly that we're usually admiring the clouds before we can even say, "Oops!"
Injuries from falls can impact our independence, so we should at least try to avoid them. One of the greatest tools we can use to reduce and prevent falls is to gain understanding on why we had a fall. Knowledge helps us to be proactive. There are many root causes why people fall, such as muscle weakness, balance deficits, underlying medical conditions, adverse reactions to medications, visual disturbances and many more.
Let's check out some ways we can reduce those dreaded falls.
Here are 7 tips to being fall-free:
1. Stay strong. If you can exercise, even a little, keep doing it. If you don't use it, you may lose it. Try to maintain your muscle mass, which after age 30, sadly most of us begin to lose. Stay limber and stretch. Even if you don't feel like taking a walk, do a little stretch or range of motion exercise to help you to maintain your balance. At Edgewood, our life enrichment teams strive to find ways to work in exercise opportunities and to make them fun and engaging. It's hardly exercise when it's disguised as fun!
If exercise causes you additional pain, or increases your risk for falls, consider the addition of outpatient physical therapy services. Physical and occupational therapies are designed to help you improve your strength and balance.
2. Visit your doctor. Try to remain up to date with vision and hearing visits to make sure you're able to see and hear what's in your path.
If you find yourself rushing overnight to the restroom, or experiencing incontinence, please reach out to your doctor to determine if there's a root cause or medical solution.
If you find yourself feeling weak, out of balance or falling, a visit to your doctor is a very good idea so that you can evaluate the reason for your falls. Your doc may be able to prescribe outpatient therapy as we previously discussed, too.
3. Review your meds. Discuss medications and their side effects with your doctor. If you take medications that could cause you to fall, ask your doctor if there is an opportunity to reduce or discontinue those medications.
4. Make sure your path is safe. While rugs look fancy and they tie the room together, be sure you don't risk injury because they cause you to trip. If you opt for area rugs in your home, try to make sure they stay securely on the floor. If you have slippery stairs at home that you can't avoid using, having slip-resistant rubber mats installed can help to give you traction.
5. Wear supportive shoes and slippers. You don't have to sacrifice style for a fall, but appropriately sized shoes with good grips can be very helpful in fall prevention.
6. Keep the lights on. Poor lighting can cause falls and frustration. If there are areas of your home that could use a night light, plug some in. There are many intelligent lighting options on the market these days, from motion-detector lighting to voice-activated and smart-home technology options.
7. Get some gadgets. Securely installed grab bars in showers and dual railings around staircases are very helpful. Be sure that the grab bars and railings are secure! Avoid stick-on grab bars in showers. They're easy to install, but may not provide you with the support you need to stay safe.
 Consider a reacher-stick for picking up fallen items. 
If you have fallen or you're afraid of falling because you live alone, consider a personal emergency pendant system. These systems allow you to wear a discreet bracelet or necklace that easily allows you to call for help with the press of a button should you need it for a fall or any emergency.
Facts on Falls:
Disclaimer: these are sobering facts from the CDC.
Someone age 65 and up falls every second.
1 out of 4 older adults will fall each year.
1 in 5 falls causes an injury like broken bones or a head injury.
Each year, 3 million older adults are seen in the emergency rooms after a fall-related injury.
At some Edgewood communities, we are working with a new software created by Aspire Clinical Intelligence.  Aspire has partnered with our electronic health record software to highlight areas of risk for our residents, including fall risk.
If the software from Aspire Clinical Intelligence highlights you as someone who is at risk for falling, it uses clinical best practices to suggest actions to address this concern. These actions may include specific treatment interventions from the senior living clinical services team and/or connection to additional healthcare providers for further assessment and treatment.  In short, this software helps our care staff to identify who is at risk for falls in an effort to try to minimize them.
If you or someone you love are in need of interventions to prevent falling, such as outpatient therapy services, or you'd like to tour an Edgewood assisted living or memory care community, please reach out to us at info@edgewoodhealthcare.com. We have much to offer in terms of both senior living and short-term care services available for seniors who prefer to remain living at home safely.