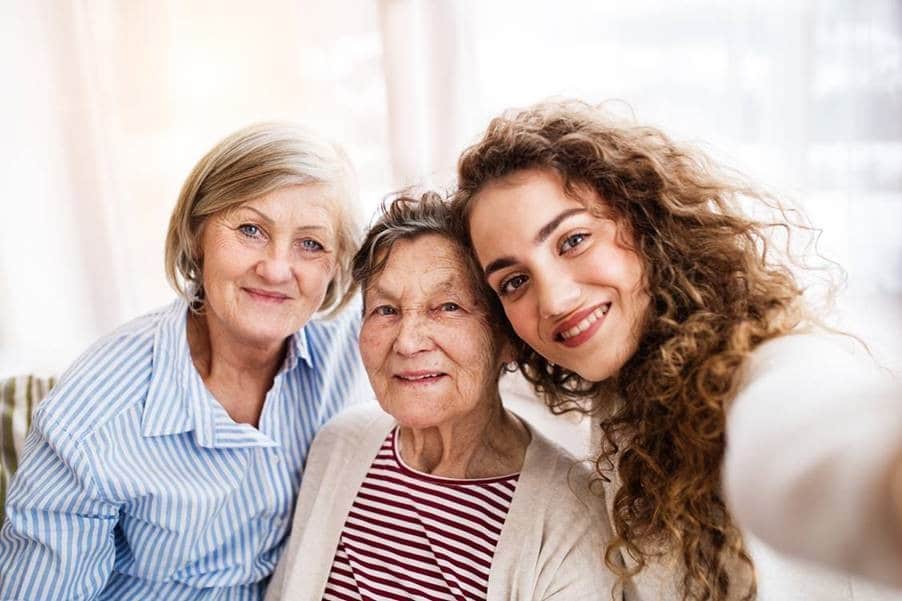 Edgewood Healthcare's assisted living communities are an excellent choice for those who want a place to thrive and grow while receiving individualized healthcare services.
Assisted living communities have evolved over the past several years and honestly, they resemble more of a maintenance-free, "all-inclusive" lifestyle for you or your loved one, providing amenities and health services all under one roof. These benefits can help you and your loved ones look forward to and bring ease to this new chapter of life!
September 12-18 is a special week, and we're taking the opportunity to recognize the roles of compassion, community, and caring for seniors residing in assisted living and other long-term care communities like ours. In celebration of National Assisted Living week, let's recognize a handful of benefits that allow us to physically, emotionally, and socially age beautifully!
1. Assisted Living Prevents Social Isolation
After spending so much of our lives working and looking after our families, it can be hard to fill each day with quality YOU time and social experiences after retirement. These hours alone can feel endless, which is why we always encourage seniors to keep active and involved in their local community. Seniors are at a much higher risk of loneliness and depression, but assisted living can help to overcome these issues. You'll find a diverse activity calendar that allows you to meet other residents and find new hobbies during this time in your life. As long as you are willing to try and get involved, we promise you'll have no issue making new friends when you move into our assisted living community.
2. Professional & Compassionate Care Around the Clock
Whether you need help with dressing, hygiene, taking medication, or you just need a hand with some of your basic daily chores, we are here to help you at all times of day and night. Our team strives to offer you privacy and protect your dignity while giving you the customized help you need to enjoy a good quality of life. The great thing about assisted living is that you will have a personalized care plan, which can be adjusted at any time. These care plans are reviewed on a regular basis, so we can ensure that you are receiving an appropriate level of care.
3. High-Quality Meals
Say goodbye to the dreaded meal planning and grocery shopping, and say hello to a variety of meals offered by our chefs! One of the keys to a healthy and happy community is offering residents fresh and delicious meals each day. We know how much of a pain cooking for yourself can be, so our team of chefs will create tasty, yet healthy meals for you daily. In addition to healthy and tasty, our dining experience is one of the best ways to make new friends, as well as giving you the fuel you need for a busy day ahead. Every day is a celebration in our local community, and we welcome you to arrange a special meal with your family and friends whenever they are visiting.
4. Peace of Mind for Family Members
As we grow older, our family members often take on more responsibility for us. If you don't have any family or close friends in the local area, it can be worrying for everyone as you grow older. Assisted living will offer both you and your family the piece of mind that you both need. They can take comfort in the fact that you're in good hands. If anything were to happen, our team will always have contact details for your family members, so they will be immediately updated about your health and wellbeing. Your family is encouraged to visit as often as possible, so you can keep in touch with your family and friends from your previous community. Our assisted living communities focus on safety and security, with little touches throughout your living accommodation to help you avoid slips and trips.
5. Enjoy More Free Time
Forget filling your time with those daily chores, shoveling, and mowing the grass, and take advantage of friendships, entertainment, and free time! We believe that your retirement should be enjoyed, not endured. You'll no longer have to waste endless hours tidying your home and garden, instead, you can just enjoy the finer things in life. Assisted living offers you a safe, secure, and hassle-free living solution, and you won't ever have to do some of those dreaded chores ever again. You'll finally be able to get around to all those fun activities on your wish list, such as reading a new series of books, going on vacation to Hawaii, or for the very adventurous, bungee jumping! Assisted living is the best of both worlds, providing you with a home-like experience that leaves you with a maintenance-free upkeep, yet independent and part of an active, social community.
These are just a few of the key benefits of assisted living, all of which you'll experience here at Edgewood Healthcare. You and your family will enjoy peace of mind when you opt for assisted living, and you'll receive compassionate care and assistance that's tailored to your needs and current situation. What more can you ask for!?
For more information about assisted living, find a community near you, or contact us at info@edgewoodhealthcare.com.