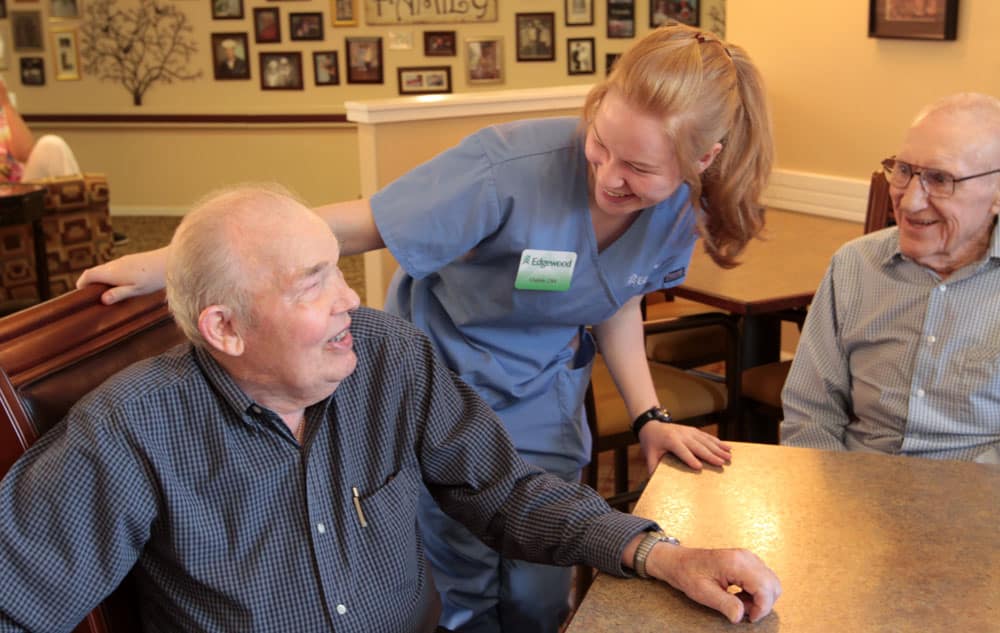 Being a Certified Nursing Assistant (CNA – often referred to as "caregiver") requires tremendous compassion, patience, and tenacity. At Edgewood, we witness these qualities in our caregivers every day and, like many roles, there's more to it than the eye can see. We wanted to share more about the rewards and challenges of the profession from Tessa Wilson and Ashley Drumgold, CNAs at Edgewood Healthcare in Helena, MT, as well as the community's Business Office Director, Demerry Yates.
CNAs: Putting the 'front' in 'frontline' of senior care
CNAs deserve our gratitude every day as they strive to improve our residents' lives and truly make a difference. Caring for seniors is not a "9 to 5" job; it's an around-the-clock responsibility that Ashley, Tessa, and their fellow CNAs and supervisors take seriously to ensure the 54 residents in their care receive the physical, mental, and emotional support they need to thrive.
"Many of our residents can't care for themselves, so I know I have to be here to keep them healthy and safe," says Tessa, a lead CNA with 7 years of experience in the profession. "We form close bonds with our residents and are there to help them through challenges they face. We often have many inside jokes, know their favorite things, or even cry alongside them."
Ashley, who has been a CNA at Edgewood Healthcare for four years, agrees that working with residents and learning each of their individual stories is the most rewarding part of the job.
"I enjoy coming in every day and being like a family member to a resident, since we are able to be there more than their families are able to," Ashley says. "Our residents keep all of us going."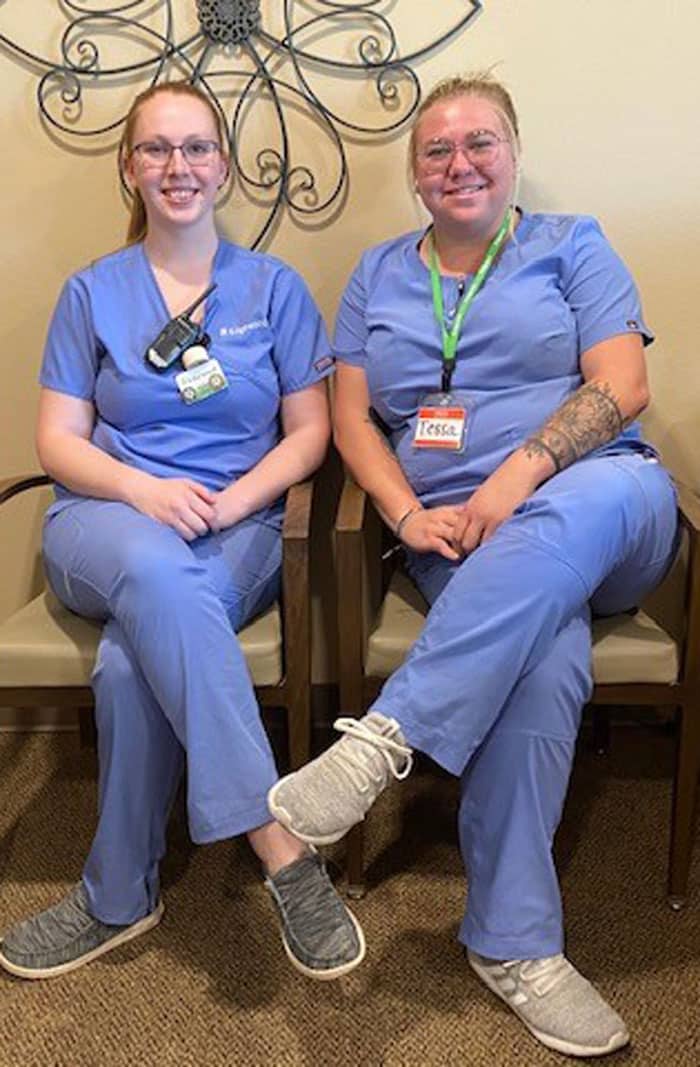 Caring for residents with varying degrees of mental and physical capacities, however, can take its toll on caregivers, especially when working with residents in memory care or hospice, Ashley adds. CNAs are typically the first to witness a resident's health decline – whether it's from dementia, illness, or simply old age – and caregivers are the first to offer post-mortem care upon their passing.
We're with them up until they pass…this is the hardest part of our job," she says. "I don't think people realize that's part of the care we provide.
Tessa agrees that being a CNA is full of ups and downs. People who become certified nursing assistants are often naturally empathetic and truly care about the residents, not just for them. However, Tessa says it's important for caregivers to set emotional boundaries and be protective of their mental health on the job.
 "You have to come into it with the mindset that you are here for the residents, but you also need to create a balance of being compassionate while not so emotionally involved that it destroys you. It's a very thin line to walk, but our residents are worth it," Tessa says.
The Face of Caring
In each of our 64 communities across seven states, our residents rely on certified nursing assistants to help them maintain the best quality of life in their golden years. Caregivers are truly the backbone of nursing, as they provide the hands-on patient care duties and essential activities of daily living with the highest level of skills and confidence. Additionally, they often serve as the eyes and ears within the walls of our communities to family members, LPNs, RNs, and even physicians. In our Helena community, Business Office Director Demerry Yates has witnessed the lengths the team goes to in order to make sure every resident's needs are met.
I definitely believe that our certified nursing assistants have the hardest job in the building," Demerry shares. "They get here, and they don't stop until they go home, especially during the pandemic. Our caregivers were their families, above and beyond the relationships they had with them previously. They deserve to be recognized for the work they do.
On many occasions, Demerry has witnessed nursing assistants coming in on their days off to bring goodies, treats, and other gifts for residents – especially if a resident is having a bad day – to cheer them up.
"That always touches my heart that it's not just a job for them," Demerry adds. "There's a way you can draw those healthy boundaries and treat seniors as human beings that you love and care for, and that's what I observe from my team. Our amazing caregivers could be doing a bunch of other jobs with their talents, but they're here. We're so grateful that they work with us at Edgewood."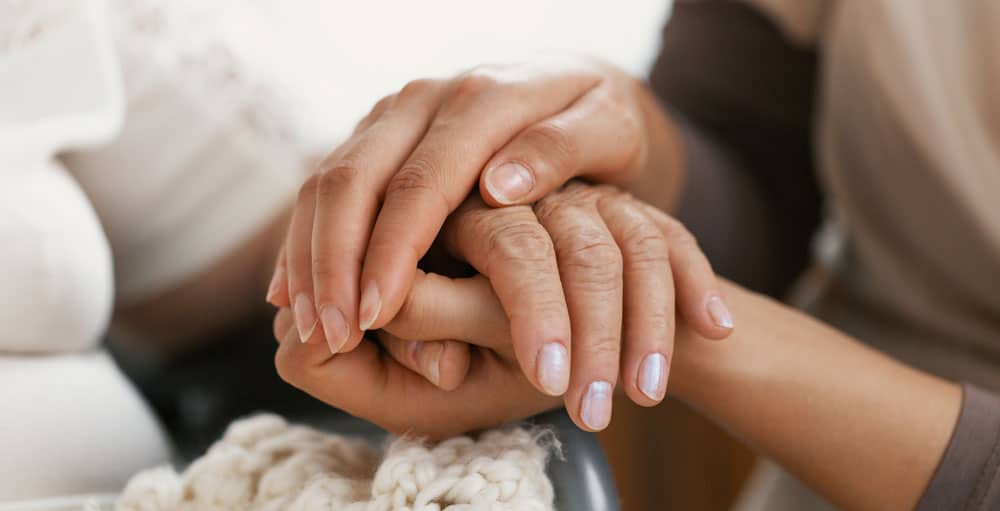 Career opportunities for CNAs
Choosing the career path of a certified nursing assistant offers many advancement opportunities. Some CNAs go to school to become licensed practical nurses, registered nurses, nurse practitioners, or doctors, depending on their career goals.
At Edgewood Healthcare, we support professional development for our CNAs and our staff by providing advancement opportunities to shift leads and other management positions. "There are many ways that our caregivers can continue their journey in healthcare, even if it's not pursuing their education further," Demerry says. Many Edgewood CNAs take pride in their advancement and become well-rounded, compassionate leaders.
If you are interested in a rewarding career as a certified nursing assistant or similar position, Edgewood Healthcare is always looking for driven people to join our team. Visit our Careers page to learn more about employment opportunities with our company!