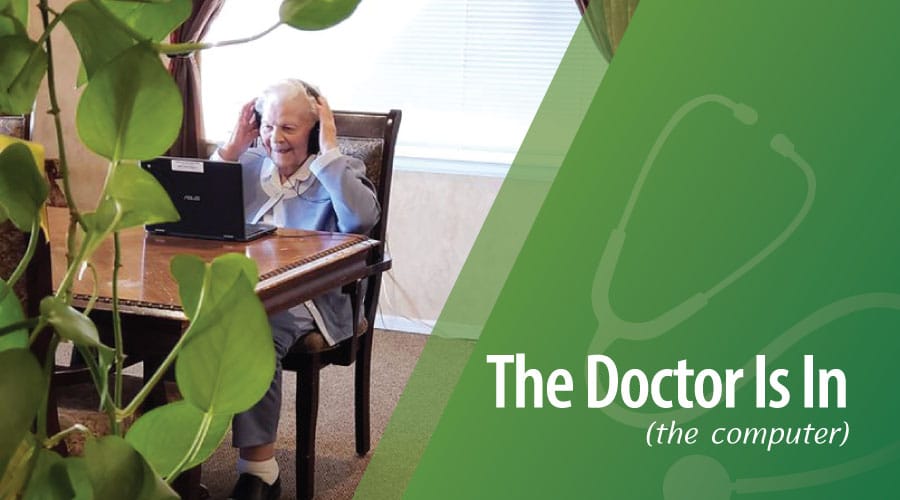 Edgewood Healthcare has been passionate about providing our residents the care they need, whenever they need it, since we opened our doors in 1992. This belief is especially true today as we navigate the coronavirus pandemic with the rest of the world.
To keep our residents safe during COVID-19, all of Edgewood Healthcare's locations continue to be closed to visitors and to perform regular employee screenings through our "Stomp the Spread" program, in addition to following all safety standards set forth by the Centers for Disease Control, industry leaders, and government officials.
Around the globe, coronavirus has compelled individuals and businesses of all backgrounds to adapt quickly, think creatively, and use modern technology to connect with one another while flattening the curve. This has been especially important for senior living communities, as seniors are at a higher risk of developing health complications from the virus.

But even with a pandemic in our midst, seniors still need regular check-ups with (and convenient access to) their primary care physicians if changes occur to their physical, emotional, or mental health.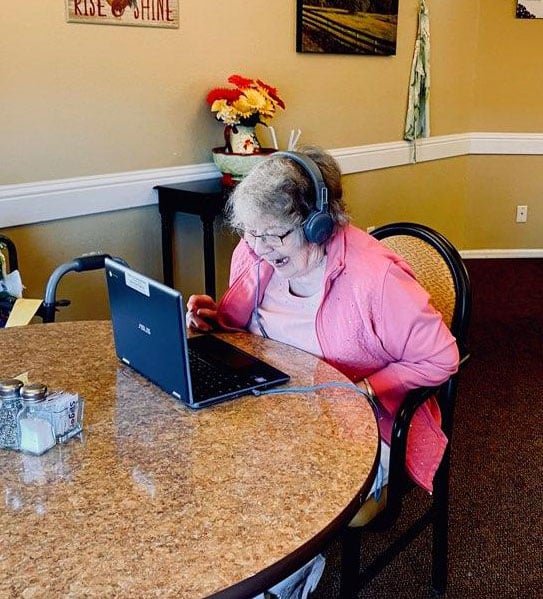 That's why Edgewood Healthcare has implemented telehealth across all of our locations, which allows residents to continue to see their primary care providers via telecommunications technology from the comfort and safety of their homes.
Telehealth appointments are private and confidential, like standard doctor visits. However, instead of seeing doctors in person, our residents use video software like Zoom or Skype on their computers, cell phones, or tablets to communicate vital health information with their primary care physicians, who then make a diagnosis and determine a course for treatment.
So far, telehealth has been "very welcomed" by Edgewood residents and their families, says Dr. Aaron Moorhouse, our Chief Medical Officer, who practices out of Meridian, Idaho.
"Families are comforted to know that their (senior loved ones) don't have to leave the building or risk exposure when doctors visit them in their homes to get the care they need at this time," he says.
Telehealth has been around for years, but before COVID-19, users of telemedicine had to meet certain criteria to be covered by Medicare and to comply with the Health Insurance Portability and Accountability Act (HIPAA). The service was only provided in rural areas with specific audio-visual equipment, and could not be performed inside the home – which included assisted living communities.
The federal government temporarily relaxed these regulations and approved Medicare coverage for telehealth expenses during COVID-19 to reduce foot traffic in emergency rooms and further protect vulnerable populations.
As a practitioner with 18 years under his stethoscope, Dr. Moorhouse says it can be challenging to examine patients without physical touch or proper instrumentation – and sometimes certain conditions require doctors to examine a resident in person while wearing protective gear. However, he is grateful to have telehealth as a solution.

"Knowing these residents and their history makes a difference," he says.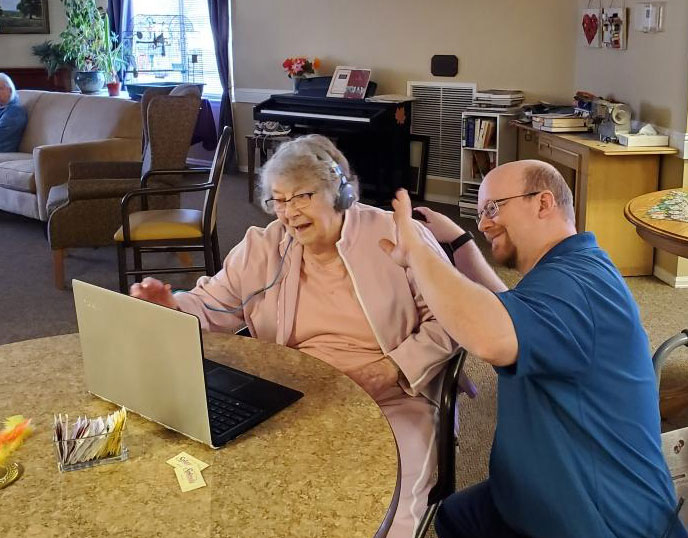 Our nursing staff have also played an integral role in the success of telehealth, as they often help our residents with setting up appointments and solving technical issues, adds Jill Leonardi-Wilson, Executive Vice President of the Edgewood Health Network.
"Having someone who knows each resident well during telehealth visits is extremely beneficial," Wilson says. "Our nurses are not only helping the resident understand what the doctor is saying (if they have visual or hearing impairments), but also helping the doctor have an accurate clinical picture of every resident."
Once COVID-19 subsides, Edgewood Healthcare team members hope telehealth continues to be offered in some capacity, especially locations in rural areas, but this largely depends on whether Medicare will continue to cover the service, Wilson says.
"Telehealth has been very valuable during this time," she adds. "We hope that Medicare sees the benefits of providing care to seniors in their homes and will reevaluate their regulations to allow us to continue using this platform to care for our residents."
Although our locations remain closed to visitors, we highly encourage loved ones of our residents to continue to virtually visit through FaceTime, Skype, Zoom, or other telecommunication technology. To coordinate a virtual visit, reach out to your local Edgewood community and our staff will be happy to assist you.
If you have any questions regarding Edgewood Healthcare's protocols during COVID-19, please email us at info@edgewoodhealthcare.com.