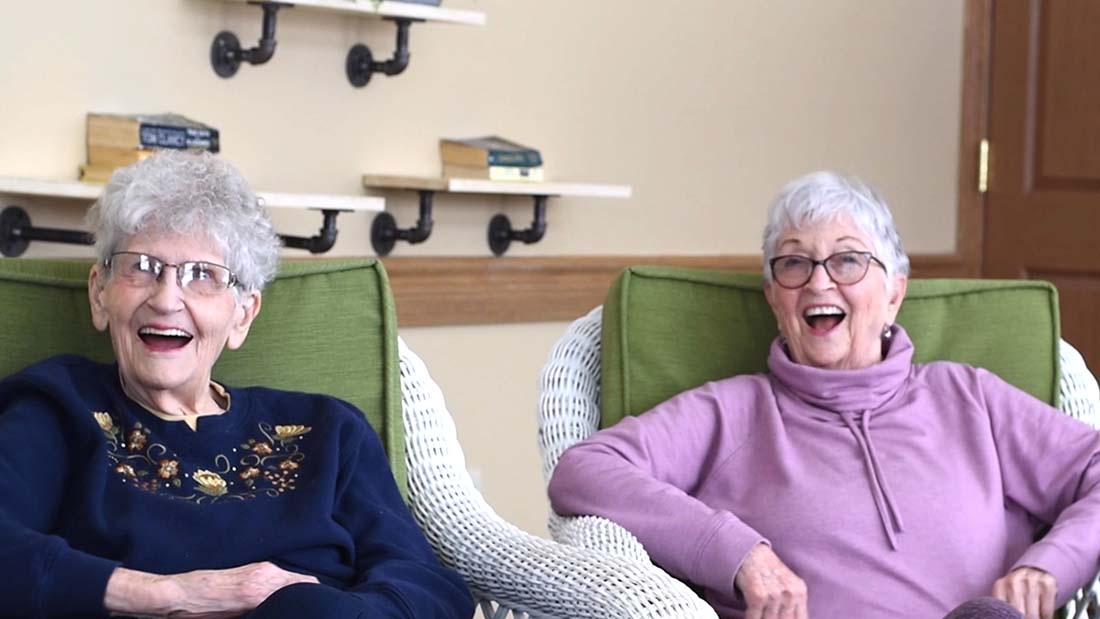 Think back on your first best friend; are you still close, do you still talk often? Friendships are more precious than gold, but did you know they can also keep us healthy? Having friends may reduce blood pressure and the risk for depression, and friendships may help us live longer!
You really never know where you'll make your next best friend! In honor of Friendship Day, which is August 7th this year, we wanted to share a heart-warming story about two of our very own Edgewood residents, Marie and Patty.
Marie and Patty met when they became roommates at Edgewood Hermantown's assisted living community. While there are several floor plans to choose from, they live in a companion-style apartment that shares a common kitchen, dining area, and bathroom, and they each have their own bedrooms that are decorated beautifully in the way they love!  A companion apartment is such an excellent opportunity for both affordability and comfort. Like many of us, if you've never lived alone, having someone nearby to go to activities and meals with can be very helpful.
Marie moved to Edgewood after living much of her life in the local community of Lakeland. Having been the clerk of Lakeland Township for more than 30 years, Marie is friendly, outgoing, and personable. Patty is also local, from the Duluth area. Both are mothers and grandmothers, and Marie is a great-grandmother. Both ladies were raised on hard work and instilled that trait in their children as well.
After just a little over six weeks of calling Edgewood home, Patty and Marie seemed very well-acquainted, as if they'd known one another for years. While their friendship is somewhat new, Patty remarked, "We can chat about anything. When Marie and I first met, we were both concerned about who we might have as a roommate, but my kids met her before I did and said I would just love her. She is just a gem! We have fun, we help each other. We're like sisters, maybe better, because we don't fight! We go to meals, bingo, and activities together often. We both like our privacy and quiet time, and we honor that for one another. We'll knock on one another's doors, but we also take advantage of quiet time too." Patty said she loves helping others, and she was very active in her community and church as a volunteer, and now, she finds any way she can to make someone else's day in her community. "I love it here, and I just love the people, they really make this place!"
Residents at Edgewood often tell us, "I wish I moved here sooner," but with all new experiences, it takes a little time to adjust to the change. Having a roommate right next door allows the chance for a new friendship to flourish, and it might help you adjust to the move. Isn't it nice to know you have an extra set of eyes making sure you're doing all right, or a listening ear when you want to chat?
Throughout our lives, most of us have shared living spaces with parents, siblings, children, spouses, or extended family. Companion living offers seniors the gift of friendship while eliminating the risk of isolation that can accompany aging. Just as it was easier to make friends at school during childhood, this ready access to people your age offers a large network of potential friends. Residents are paired based on their lifestyles and similar interests. It's easy for friendships to arise when residents are encouraged to join in our daily activities, and as roommates, seniors will typically attend and enjoy activities together.
Both Marie and Patty had the same answer when we asked what they liked best about the Edgewood Hermantown community, "The people." Marie enjoys having many people to visit with and much to do, with variety, "You get to do as you please. You can come and go, and the people are so good to us," she said. Marie explained, "Patty and I share everything. No matter what we're doing, we share meals, we wait on one another whenever we can. Patty has a goofy sense of humor and I hate to say it, but I do too."
I have found the best friend I have had in 80 years!
When you choose Edgewood, making friends comes easy! Whether you choose a studio apartment or a two-bedroom in one of our 65 communities, we have living spaces and social opportunities that meet everyone's needs. Our apartment options provide the perfect combination of friendships, safety, and home.
To learn more about companion living, or our senior living options, contact an Edgewood community near you, or email us your questions at info@edgewoodhealthcare.com.