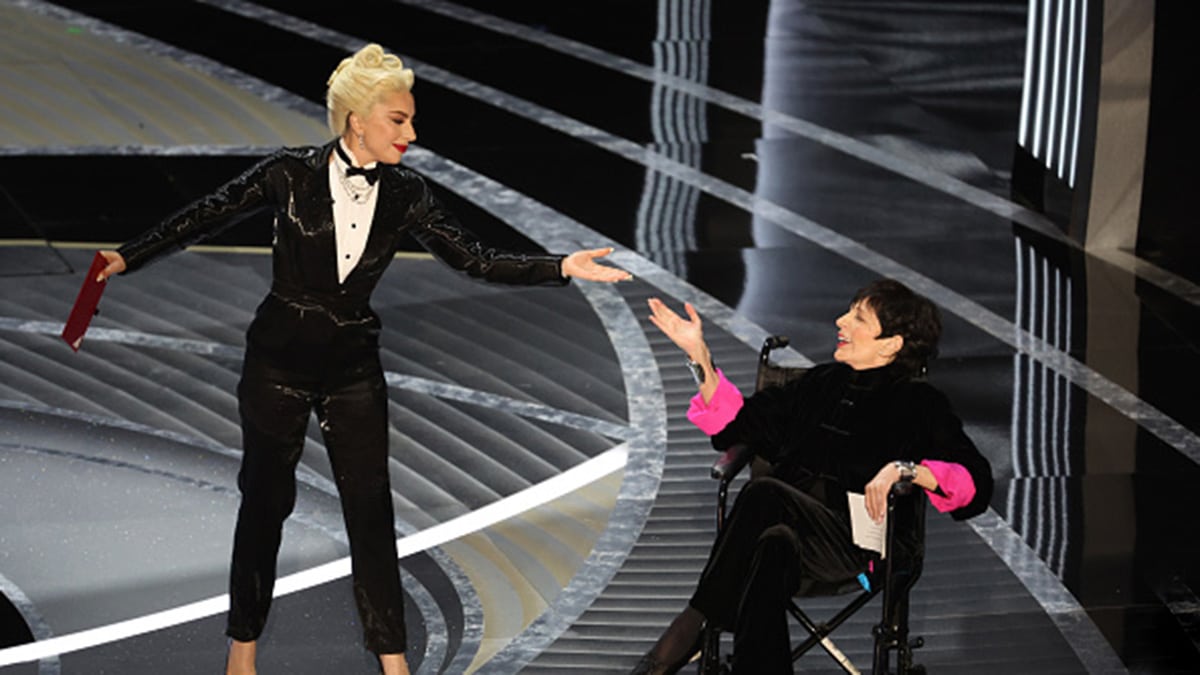 And the Oscar should have gone to Lady Gaga, for her example of utter human kindness! In light of the turbulent events at the 2022 Academy Awards, let us not discuss who won an Oscar; instead, let's look at the amazing interaction between Lady Gaga and Academy-, Tony-, and Grammy Award-Winning Actress, Liza Minnelli!
Being the daughter of Judy Garland and Vincent Minnelli, Liza was blessed with an inherent talent that brought her fame and success as both an actress and a singer. Tabloids have reported over the years that Minnelli has had some health struggles to endure, but that did not stop her from returning to the stage to announce the Academy Award nominees for best picture this past weekend.
Minnelli beamed with light as she smiled brightly and spoke with some complexity in introducing the Oscar nominees, while Lady Gaga showed her nothing but grace and human kindness, saying, "I got you." This graciousness exists in the world, but sadly, as at the recent awards ceremony, oftentimes grace becomes quickly overshadowed by negative events. Instead of focusing on the unanticipated events at the Oscars, let's focus on the Lady Gaga's of the world – they're all around us; we just have to look. Oftentimes, they don't get center stage, but they go about their days just doing good for humanity without giving it a second thought – these are the best folks we can ever find!
As we age, we're all going to "need a little help from our friends," as the Beatles once sang. In truth, as we age and undergo changes to our abilities, being accepted with grace and compassion, and receiving help to keep our dignity, is what we can all hope for. We don't want to be corrected or feel awkward for being different. We want acceptance and kindness. Whether we stumble over a few words when we speak, or things take us a little longer than they used to, we're still us. Please show us, and one another, grace, kindness, and love.
 Here at Edgewood, or anywhere, we should all be more like Lady Gaga. From our frontline staff to our maintenance technicians, to the president of our company, kindness goes a long way. As we take care of our seniors, kids, or community, remember to walk in their shoes and empathize or give them an "I got you" occasionally. Because of the additional services offered, our personalized care approach, and our philosophy to help residents thrive rather than just get by, our residents, too, can confidently say "I know."
Empathy:
"Let me hold the door for you. I may have never walked in your shoes, but I can see your soles are worn, your strength is torn under the weight of a story I have never lived before. Let me hold the door for you. After all, you've walked through; it's the least I can do."
Did Lady Gaga inspire you to help others at your core? If so, we want you to join our Edgewood family! Consider joining our reliable and talented team to share your compassion, care, and kindness with our amazing residents. Our staff goes above and beyond to help our residents and employees feel dignified, empowered, and important. Contact us at info@edgewoodhealthcare.com.