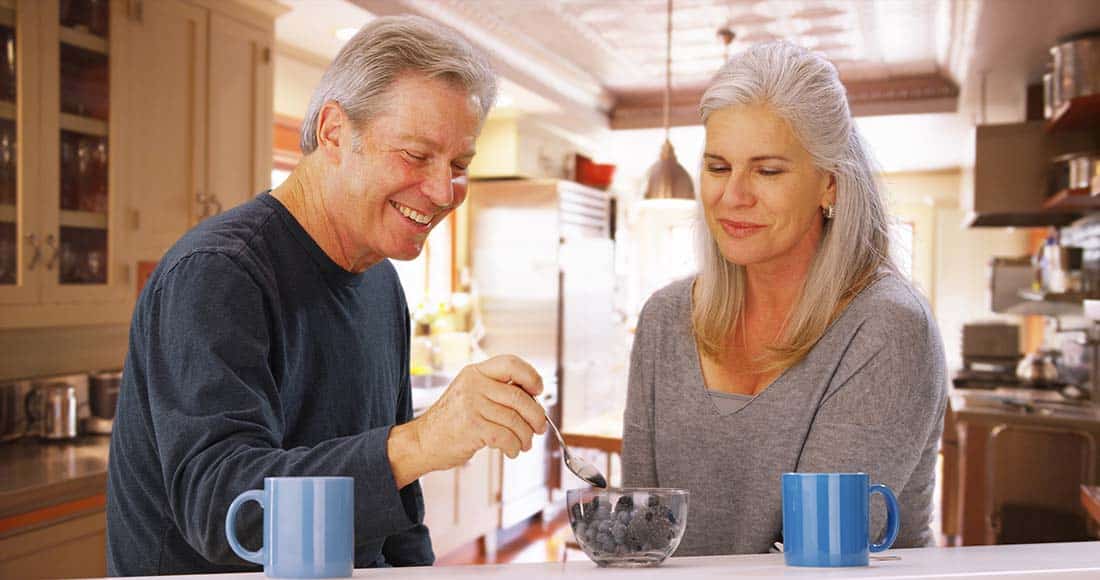 We've written many blogs about how physical and social activities can help the brain, but what about food? Nutrition can be easy to overlook with age. Perhaps you're like many and feel you've earned the right to eat whatever you want after living so long.
While balance still counts, don't let some friendly diet advice get you in a jam… Let's talk about the best part of July—blueberries! July is Blueberry Month, and one of the summer's healthiest perks. Did you know that blueberries are good for your heart and your brain? It's true! They can help lower your blood pressure, improve your memory, and help you recover after a workout, and may help prevent heart disease.
Eat With Your Eyes First!
Gray foods are just tough to choke down, which is why there's such good news for the beautiful blueberry! Anthocyanins are responsible for the color of blueberries. According to the Cleveland Clinic, anthocyanins are pigments found in plants that range from deep red to blue and violet hues, and they're also part of plant-based chemicals called flavonoids. Flavonoids have antioxidant properties, and can help the body to destroy free radicals that cause cellular damage. Fresh and frozen blueberries are the healthiest options; during the summer, those fresh little tasties can be easy to find and fun to pick. Be sure to look out for the ticks and skeeters; if the bears want your berries, it's best to oblige!
Eat for Your Brain!
Blueberries are brain food. The US Highbush Blueberry Council explains that along with a healthy lifestyle, blueberries may help to improve mild cognitive impairment. The credit goes back to the anthocyanins in the color of the berry. They're also a great source of fiber and a low-calorie treat. A cup of blueberries has just 80 calories and provides 4 grams of fiber. While we're celebrating blueberries this month, check out a few other fun brain foods to enjoy all year:
Green Veggies: kale, broccoli, & spinach
Fatty Fish: high in omega-3 fatty acids like salmon, albacore tuna, herring, & anchovies
Berries: blackberries, strawberries, & raspberries
Tree Nuts: almonds, pecans, walnuts, pistachios, & cashews
Eat with Gusto!
Life is short enough without skipping every dessert. Be sure to enjoy the blueberry season this year with a homemade pie!
What's the best thing to put in a blueberry pie? Your teeth!
Betty Crocker's Classic Blueberry Pie:
Click here to learn more.
Crust:
2 cups Gold Medal™ all-purpose flour
1 teaspoon salt
2/3 cup shortening
4 to 6 tablespoons cold water
Filling:
3/4 cup sugar
1/2 cup Gold Medal™ all-purpose flour
1/2 teaspoon ground cinnamon, if desired
6 cups fresh blueberries
1 tablespoon lemon juice
1 tablespoon butter, if desired
Steps:
In a medium bowl, mix 2 cups flour and salt. Cut in shortening, using a pastry blender (or pulling 2 table knives through ingredients in opposite directions), until particles are the size of small peas. Sprinkle with cold water, 1 tablespoon at a time, tossing with a fork until all flour is moistened and the pastry is almost cleaned from the sides of the bowl (1 to 2 teaspoons more water can be added if necessary).
Gather pastry into a ball. Divide in half; shape into 2 flattened rounds on a lightly floured surface. Wrap in plastic wrap; refrigerate for about 45 minutes or until dough is firm and cold yet pliable. This allows the shortening to become slightly firm, which helps make the baked pastry more flaky. If refrigerated longer, let the pastry soften slightly before rolling.
Heat oven to 425° F. With a floured rolling pin, roll one round into a round 2 inches larger than an upside-down 9-inch glass pie plate. Fold pastry into fourths; place in pie plate. Unfold and ease into the plate, pressing firmly against the bottom and side.
Mix sugar, 1/2 cup flour, and cinnamon in a large bowl. Stir in blueberries. Spoon into pastry-lined pie plate. Sprinkle any remaining sugar mixture over the blueberry mixture. Sprinkle with lemon juice. Cut butter into small pieces; sprinkle over blueberries. Cover with top pastry that has slits cut in it, and seal and flute. Cover the edge with a 2- to 3-inch foil strip to prevent excessive browning.
Bake 35 to 45 minutes or until the crust is golden brown and juice bubbles through slits in the crust, removing foil for the last 15 minutes of baking. Cool on the cooling rack for at least 2 hours.
If you're looking for more time to make pies, enjoy hot coffees, and take up some new hobbies, consider independent or assisted living. Independent living allows you to downsize and have your own private space to enjoy, while assisted living offers a beautiful apartment, personal care, and chores checked off the list. Either way you slice it, you can enjoy more you time! If you'd like to learn more about these options, please reach out to us at info@edgewoodhealthcare.com.