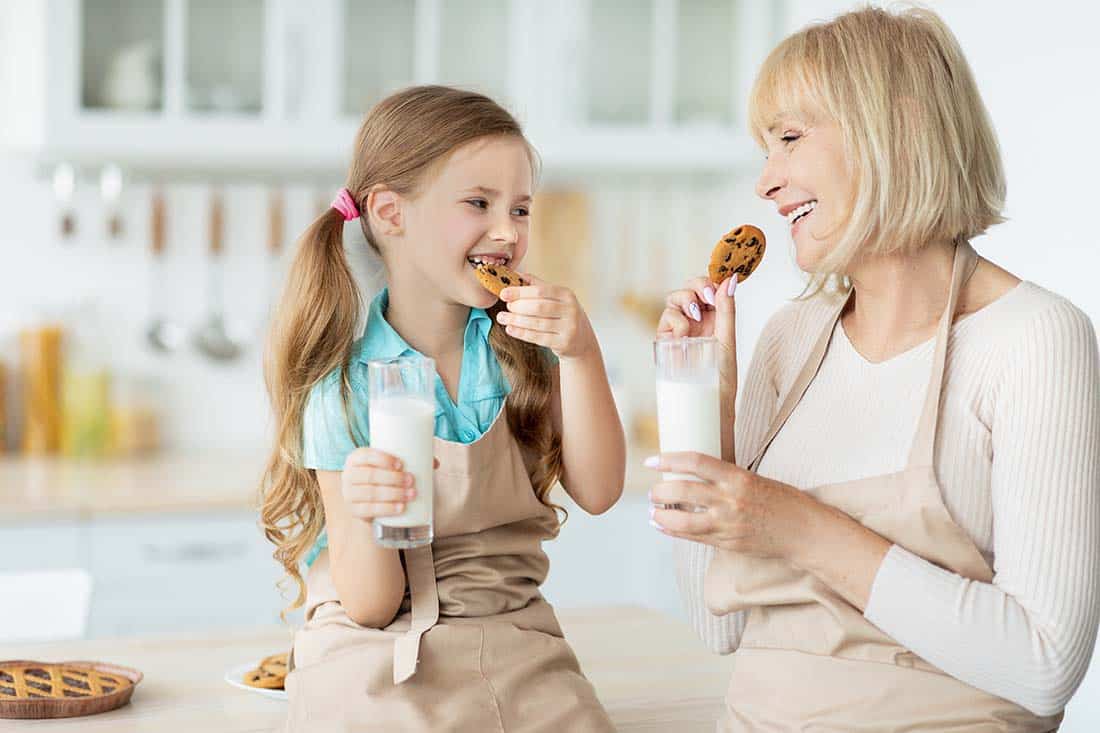 Did you know that some chocolate chip cookie recipes can reverse wrinkles? We didn't either, because it's absolutely furthest from the truth—gotcha! But what a chocolate chip cookie recipe might do is bring you right back to being a kiddo in Grandma's kitchen, and what a fond memory to think of!
We hope memories of baking give you all the feels, because today is Chocolate Chip Cookie Day! While we like to encourage health and wellness in our blogs, some good can come from the occasional cookie, too. Did you know that they were invented by accident? That one is true…
History of the Chocolate Chip Cookie
It's the late 1930s at the Toll House Restaurant in Whitman, Massachusetts. Mrs. Ruth Wakefield was baking away in the kitchen and accidentally created the chocolate chip cookie after tossing some Nestlé chocolate pieces into her cookie ingredients. The concoction was so popular that the Nestlé Candy Company purchased the recipe in 1939.  If your mouths are watering now, here's that very recipe from Nestle.com:
Nestlé Chocolate Chip Cookies
Ingredients:
2 1/4 cups all-purpose flour
1 teaspoon baking soda
1 teaspoon salt
1 cup (2 sticks) butter, softened
3/4 cup granulated sugar
3/4 cup packed brown sugar
1 teaspoon vanilla extract
2 large eggs
2 cups (12-oz. pkg.) Nestlé Toll House Semi-Sweet Chocolate Morsels
1 cup chopped nuts (if omitting, add 1-2 tablespoons of all-purpose flour)
Makes 5 dozen cookies
Method:
Step 1. Preheat oven to 375° F.
Step 2. Combine flour, baking soda, and salt in a small bowl. Beat butter, granulated sugar, brown sugar, and vanilla extract in a large mixing bowl until creamy. Add eggs, one at a time, beating well after each addition. Gradually beat in flour mixture. Stir in morsels and nuts. Drop by rounded tablespoon onto ungreased baking sheets.
Step 3. Bake for 9 to 11 minutes or until golden brown. Cool on baking sheets for 2 minutes; remove to wire racks to cool completely.
Step 4. Enjoy with friends and loved ones!
Cookies are Made with Love
At Edgewood, we've got nothing but love! From baking cookies to enjoying them alongside a nice, hot cup of coffee, we have oodles of events that spark joy in everyone's souls. We offer activities based on each resident's favorite hobbies, from baking to pottery. We've got a jam-packed calendar filled with fun, even when it's snowing outside!
If you're not in the market for senior living, consider becoming staff or volunteering with us. We've had some fantastic folks join our teams after they decided they had too much good to share, and they popped out of retirement to spend days with some of the best folks on Earth—our residents! Full-time or part-time, if you're caring and enjoy having fun, we'd love to have you anytime; and don't worry, there will be plenty of cookies.
If you're interested in learning more, contact us at info@edgewoodhealthcare.com.