"I love to come to work with a positive attitude. I always have a smile on my face." – Amber Hahn
Amber Hahn, Life Enrichment Director at Edgewood Grand Forks, has truly found her dream job working with residents. Using her own positive energy, she brings activities to life and explains that it's very simple to create a fun atmosphere: "If you're happy, they're happy."
Amber was inspired back when she was a kid by spending time at Edgewood Memory Care in East Grand Forks, MN where her mom worked for 20 years. She spent days visiting and doing activities with residents back when there was not the variety of activities we have today. Her experience guided her to study occupational therapy in college, which she uses today in planning activities to help residents socially, physically, and emotionally.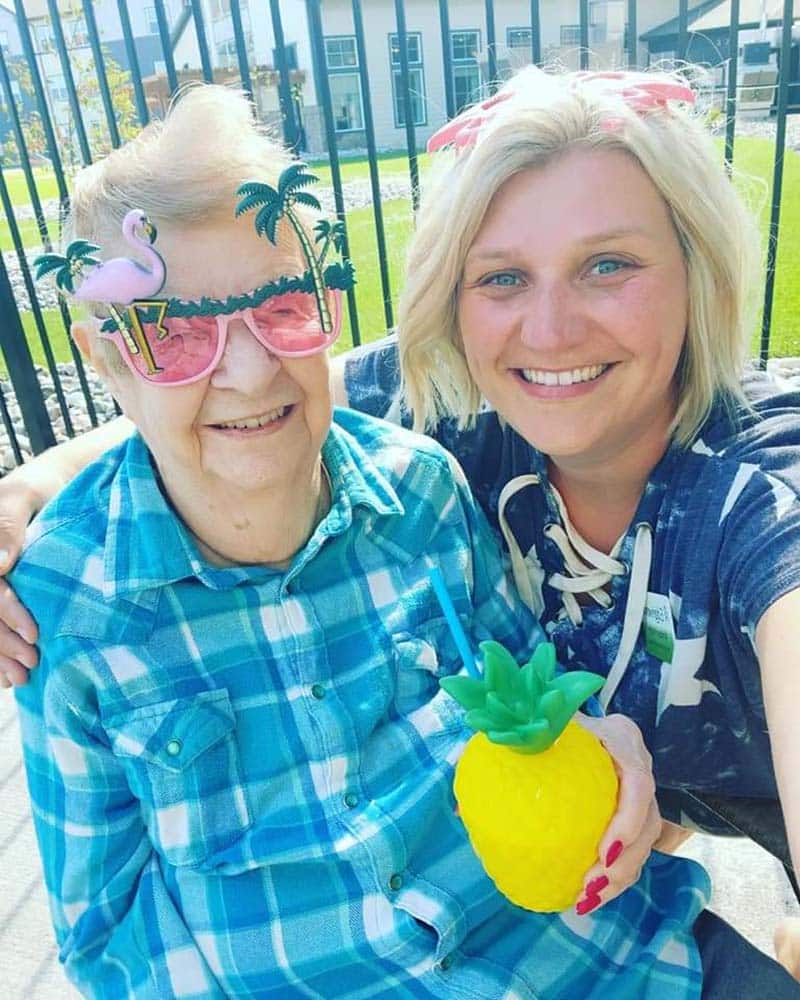 "I am so grateful for my position. It's not 'work'. It's going to work every day, and there's planning and effort, but it's more like fun. When you see the smiles on the residents' faces, it's worth absolutely every step. Your heart needs to be in it no matter what position you choose, because the residents deserve the absolute best."
A jam-packed activities calendar helps residents stay active. On-site, you'll find residents baking together, enjoying art projects, and playing many games, and they even donate their time by making tie blankets for a local animal shelter. Using a city events calendar, they're also able to find fun at car shows, concerts in the park, street fairs, holiday celebrations, parades, and even tailgating at football games.
Assisted living is not what it once was; it has improved in many ways. The kind and creative staff who show up each day help make it the amazing experience it is today, and we should celebrate!
Celebrating Assisted Living Week
National Assisted Living Week is September 11th through the 17th. This is a chance to recognize all of the hard-working staff who make Edgewood an amazing place to call home. It's also an opportunity to learn what assisted living is really all about.
Think back twenty years. You probably would have seen assisted living differently. Would you have thought that residents would take trips to tailgate at football games, visit wineries, or play games like "Beer & Bingo"? Would you have envisioned, between the walls of assisted living, gourmet food, brightly colored mosaics and paintings, eruptions of laughter among residents, or families celebrating the holidays together?
Discover first-hand all of the amazing ways staff uses creativity and kindness to make each day something fun and exciting. It will help you realize that with the right people by your side, assisted living can be another amazing chapter in everyone's story.
Creating rewarding bonds
Working in assisted living allows us to share in each resident's joy and life experience. They have so much knowledge and insight to share that we find ourselves learning from them just as we have from our own grandparents.
We share our joy with them, too. They ask about our children and home life. If we are not in one day, whether we're out sick or on vacation, they notice, and they check in with us when we return.
There are key benefits of living and working in assisted living, which you can experience at Edgewood Healthcare. With 65 senior living communities spanning seven Midwest states, there are abundant opportunities available where you can do what you love, and love what you do! To learn more, contact us at info@edgewoodhealthcare.com, or check out our webpage, Edgewoodhealthcare.com.
To all who make assisted living a happy place to live, visit, and work, thank you! Please celebrate all the great work you do this week!