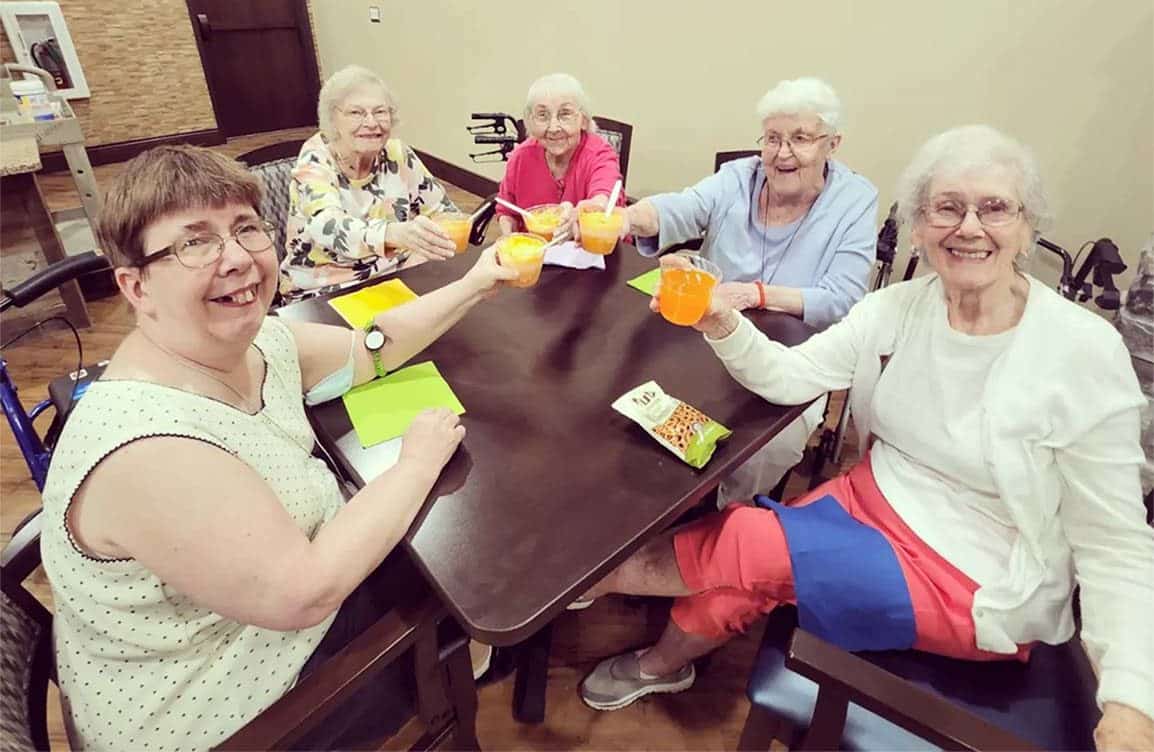 Are your golden years feeling not so golden? Is your family calling you a grump? We all have full plates these days–busy days followed by busy nights and early mornings. While most of us don't expect to jump out of bed in the morning whistling "Zip-a-dee-doo-dah", wouldn't it be great to get a little happier? Life is short, there's no doubt. If you want to make the most of it, it's important to enjoy your time while you're here.
Here's how you can get happier!
1. Smile
Even if today is not your day, try on a smile. Smiling is contagious and so is frowning! Smiling, even if you fake it, may have a positive impact on your mood! Smiling may give social cues to others that you're in a good mood. If someone sees you frowning or grimacing, on the other hand, they may feel you're not happy and perhaps your conversation (if they don't choose to avoid you) will reflect your expression. It can't hurt to try this one!
2. Socialize
Slap on that smile we just talked about and visit! Spending too much time isolated can have a negative impact on health, especially as we age. It's important to continue your favorite hobbies, as well as participating in clubs and volunteer groups.
Socializing helps us to feel fulfilled! Whether you get together with your friends or family, staying connected is important. Did you know that July is National Social Wellness month and National Picnic month, too? These are fun reasons to celebrate. Try out a new recipe, and dust off the grill. Enjoy a day of yard games and delicious food with your friends and neighbors and soak up the summer sun!
3. Make time for fun every day
We know, this is the Midwest and we have to make hay while the sun shines, but don't wait too long for a rainy day before you enjoy yourself! As we age, if we go too long without a break, we may experience illness or injury if we have too many things to worry about. Chores become more challenging, they take us longer, and that can prevent us from enjoying our retirement years.
Consider reducing your to-do list, so you can keep some balance in your life for fun! If you're on too many time-consuming committees, or you have too much to do at your home, find a way to reduce that so you can get out and do more of your favorite things.
4. Think ahead
If today is "not your day, your week, your month, or even your year," and everything possible has gone wrong, look ahead! Start small. Think about how much better tomorrow will be. Take a nap, take a break, and reset your mood. Try to re-focus to make your current state of mind a better one. If the weather is yucky today, scope out the ten-day forecast to find the better days ahead. Check your calendar, too, and look forward to the events coming up. If your fun calendar is lacking, make some plans. Plan a fun road trip to visit family, or book a warm and sunny vacation so you can look forward to that during the dead of winter.
 5. Be mindful of what you watch
What we take in, we get out. If you enjoy TV as much as the rest of us, try to find shows that have more of a positive impact. Give nature programs a try, check out "how-to" videos to learn a new skill, or turn on your favorite comedy.
Watching too many negative things, like the news, can take a toll on us. Try to work the good news into your daily mix. Reach for the funnies in the newspaper or search for heartwarming stories online. And, if the influx of bad news makes you feel icky, consider this friendly way of thinking from our old pal, Mr. Rogers:
When I was a boy and I would see scary things in the news, my mom would say to me, always look for the helpers. You will always find people helping.
If you're looking to get happier, let Edgewood help! Find an Edgewood Healthcare Community near you or visit their Facebook page. Our team has an excellent way of keeping families engaged by watching loved ones experience the joy of senior living. Find out how you can join us at info@edgewoodhealthcare.com. Until then, stay healthy and happy!