This past spring/summer, we featured a 5-part blog series to honor the Longest Day. The Longest Day takes place on the summer solstice. It's an initiative by the Alzheimer's Association to raise awareness and funds in the fight against Alzheimer's disease.
Our blog series discussed the grief stages as they apply to Alzheimer's disease. Grief impacts those with the disease and their families who grieve the "old them." At the close of the series, we discussed the final stage of grief: acceptance.
Education & Resources
Acceptance lies in understanding the disease. There's nothing easy about the cold, hard truth of Alzheimer's, but we do feel hope for the future. We're grateful that organizations like the Alzheimer's Association exist and continue to advocate for education, funding, and with any luck, a cure.
When the FDA approves new treatments and drugs to help treat Alzheimer's disease, there's no guarantee that the medicines will be affordable for all. The Alzheimer's Association is an excellent advocate for all who rely on Medicare and Medicaid to help fund these vital treatments.
The Alzheimer's Association is also a tremendous resource for families and caregivers trying to navigate the uncertainty that comes with the diagnosis. They can provide education and materials to help improve care and communication for the person battling the disease and their loved ones. They also have a 24-hour hotline (800.272.3900) to call with questions to help people navigate the complexities of the disease.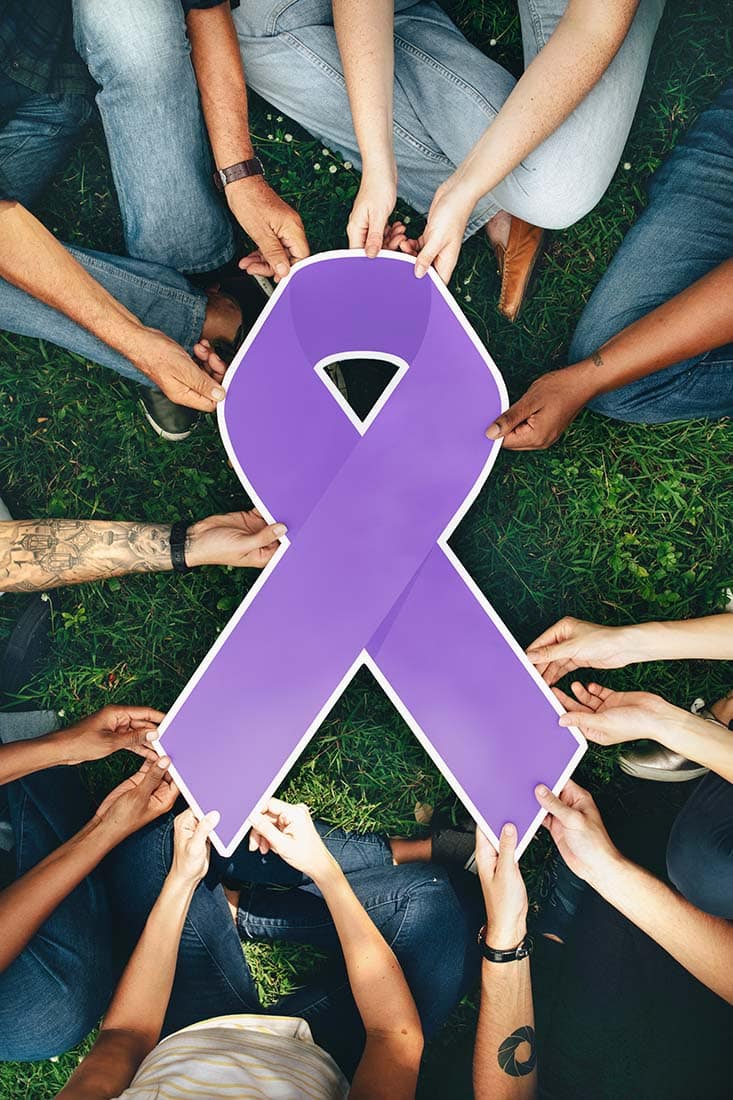 Sharing What You Know
Alzheimer's holds a stigma. Because people don't fully understand it, they may shy away from supporting their neighbor as they would if they had an injury or another terminal illness. Our blog series noted that one family wished their loved one had cancer, not Alzheimer's disease. That's because people know what cancer can typically do, while Alzheimer's is unpredictable, and people don't readily know how to respond.
Raising awareness helps to honor those suffering from Alzheimer's. Once people develop a better understanding, they can provide better support. They may not try to correct someone with memory loss, or try to right wrongs that are said or done. When people fully grasp what the disease does, they let their friends and loved ones be who they are in the moment.
We ask for your help during World Alzheimer's Month to enhance your understanding and share your knowledge with others who could use it. Knowing more about it helps everyone to respond better, more gently, and more compassionately to those who need us.
Finding Peace & Comfort
It's vital for those suffering from Alzheimer's to feel calm and comfortable because the world around them, as they once knew it, can all look different. The noises, sights, smells, and surroundings may all appear foreign. Meet those you love and care about where THEY are on their journey, and try to add light, positivity, and kindness to their sometimes-scary new world.
Memory care is one of the best resources to help add comfort and safety to those needing personal care and supervision. Memory care communities feature specially trained staff. They are taught to respond to those suffering from memory loss in a way that adds peace to their environment when they're feeling anxious or confused.
Adult day services is another helpful program. It's very similar to the programming offered in memory care, but provides short-term support during the daytime, Monday through Friday. Adult day services allow flexibility. People can stay for the day or come for part of the day to receive help with activities of daily living, meals and snacks, social activities, and support with medications. This programming can allow caregivers to have a break or run errands while the person with Alzheimer's or another form of dementia has a safe and engaging place to be.
It's important to know that despite all the challenges, joy is still possible for those with Alzheimer's disease—if we meet it correctly. Are you in need of support for someone experiencing the effects of Alzheimer's disease? If you are, please contact us at Edgewood Healthcare at info@edgewoodhealthcare.com. We offer both adult day services and memory care.