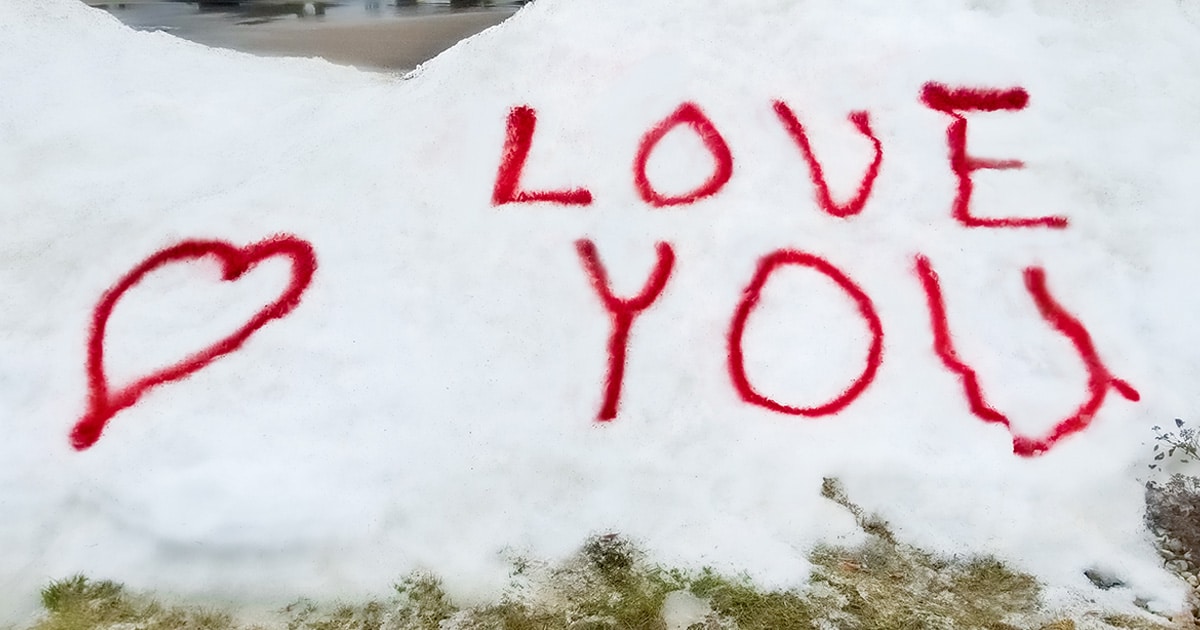 Although our doors continue to be closed to visitors during COVID-19, our residents and their loved ones have kept open minds as they find creative ways to connect with one another.
Car parades, letters in the mail, care packages, and game nights over Zoom are some of the many wfamily members and friends have spread a little sunshine in our residents' lives throughout this challenging time of isolation.
One particular gesture that gained attention in our independent living community in Fargo, North Dakota, is an outdoor violin concert orchestrated by dedicated son Tim Flakoll for his parents, Alden and Wilma Flakoll, and their neighbors. Residents gathered near every window on a sunny March day to listen to performer Kelsey Buell as she filled the air with beautiful, uplifting music on her electric violin.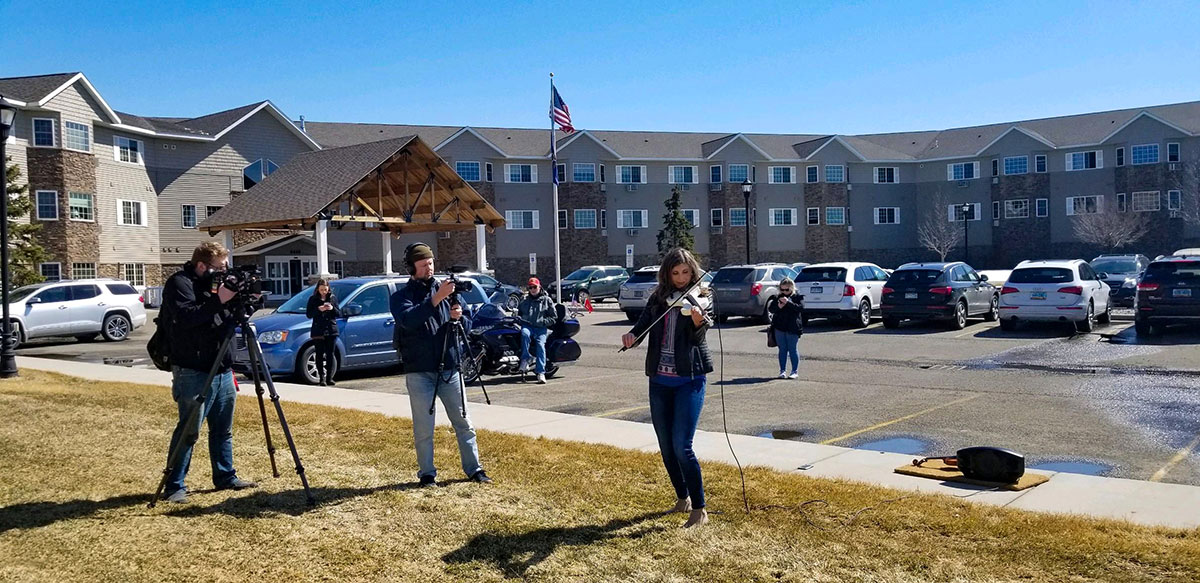 The concert was Tim's way of giving his mom and dad "a big musical hug," he said during a Zoom call with our team and his parents to share their story. "Our family is very musical to a high degree, so that was something we all could enjoy."
"It was such a nice surprise," says Wilma Flakoll, with Alden sitting by her side in their home. "We received many compliments."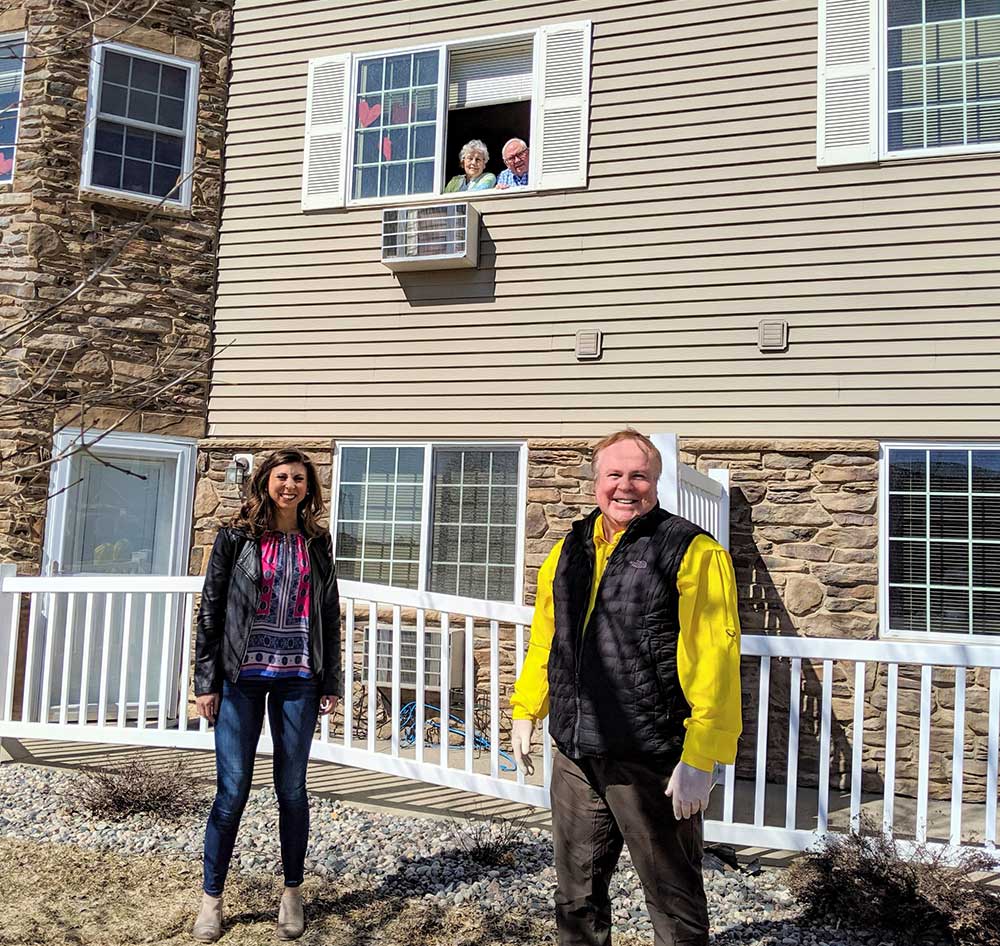 But this is only one of many innovative ways the Flakoll family has stayed connected during the pandemic, despite being physically apart.
Another day, Tim got permission to spray paint a tic-tac-toe board on the lawn outside his parents' room. They played the game using red bean bags for X's and blue bags for O's.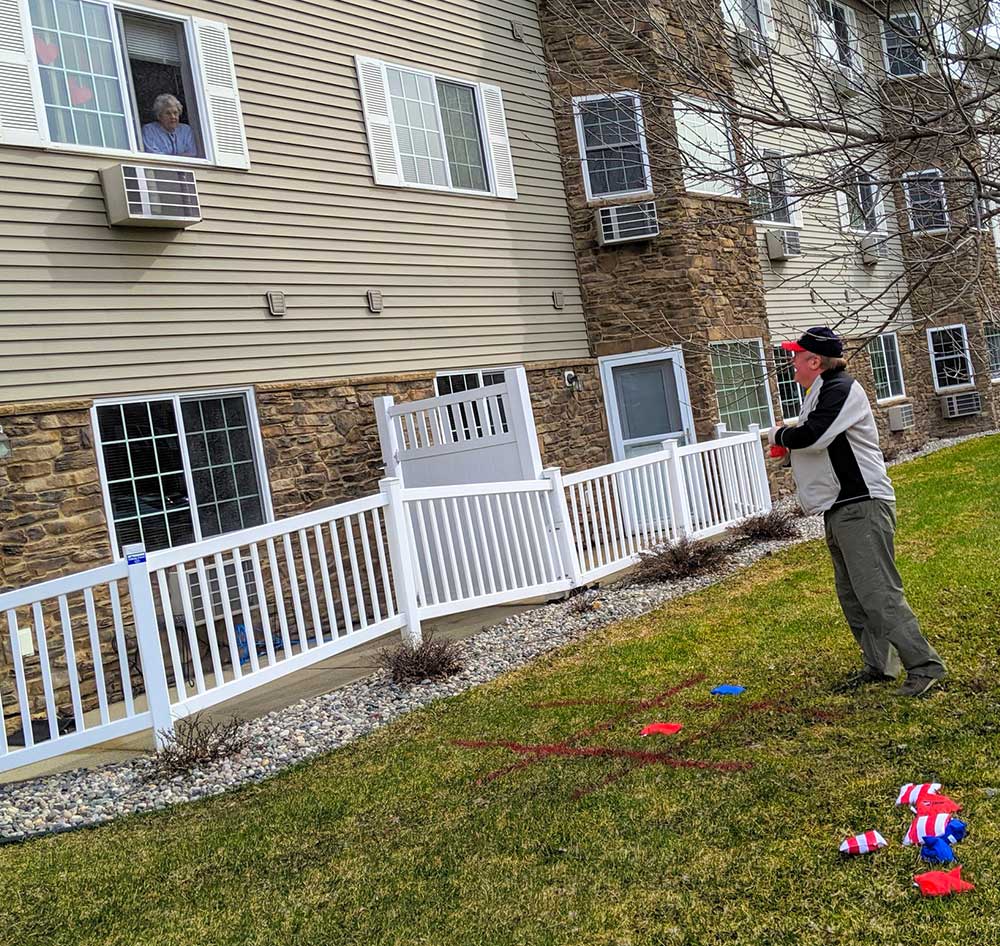 Tim says his family is willing to do whatever it takes to see one another, whether it's through WhatsApp, Zoom, or their window screen.
"There's a value to me, mom, and dad that we get to see each other, particularly since (the coronavirus) is a medical situation," he adds. "We want to be able to look each other in the eye and make sure we're doing okay."
Maintaining communication goes beyond talking and visiting, Tim says. He and his sister Joan often drop off care packages – like their parents did for them and their late brother Paul in college – with scrapbooks, household essentials, family heirlooms, or lefse to brighten their day.
Tim also wrote messages for his parents in the snow when it was still on the ground, and was first in line for the Mother's Day car parade this spring.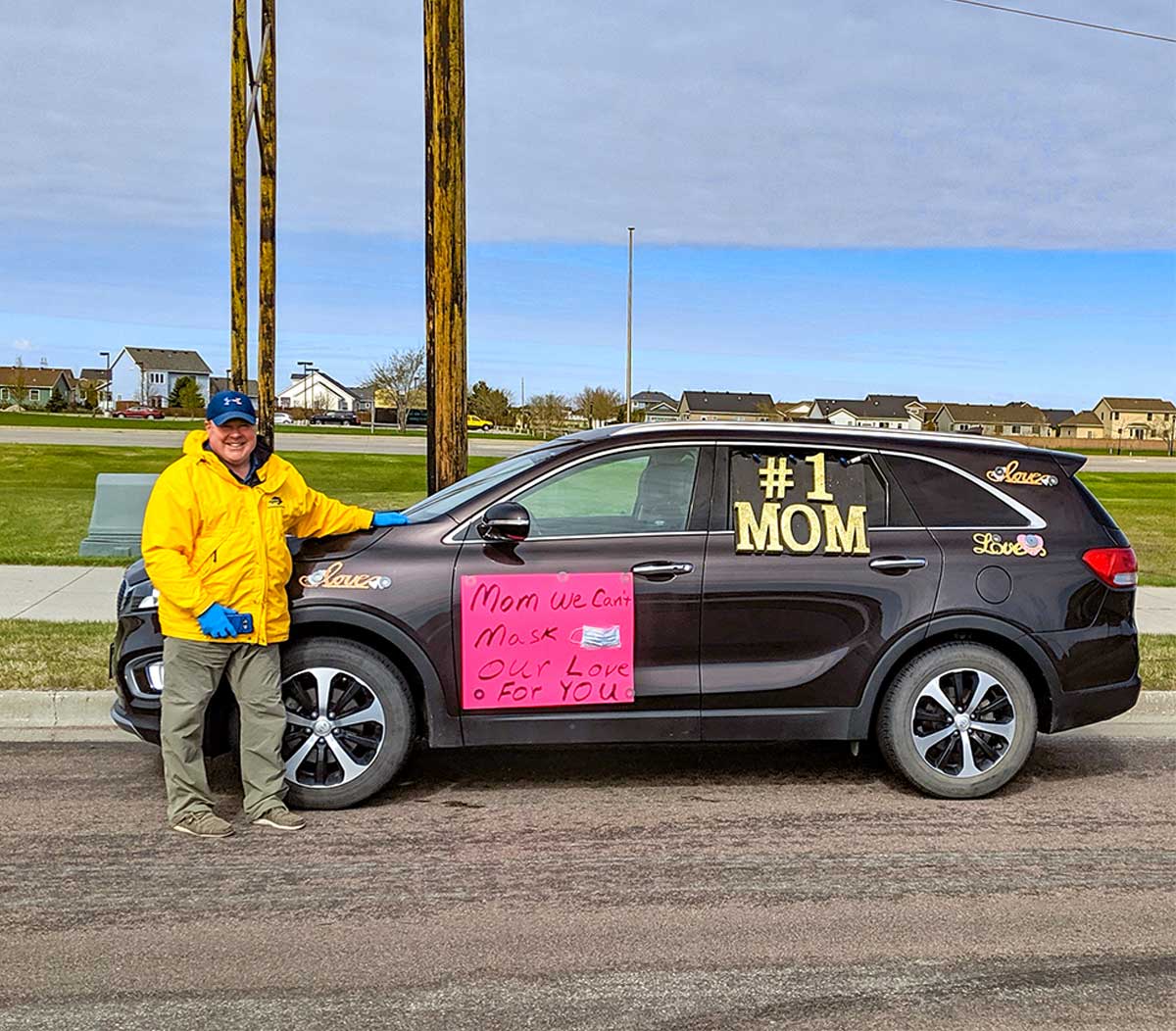 "It's important to not let what you can't do interfere with what you can do," Tim says.
One thing Wilma has been able to do since 1959 is cut Alden's hair, which has certainly been an advantage over the last few months.
"My dad was nice enough to give her a clipper to cut my hair (after we got married)," Alden says.
"And I was silly enough to say yes," Wilma adds as the family laughs together.
Although they remain optimistic, the Flakolls, like other families sharing this experience, agree that it's been challenging to be isolated from their loved ones. But Wilma and Alden – both of whom are cancer and heart surgery survivors – continue to be resilient and patient. The family gets through each day by channeling their sense of humor and their faith.
"We get our church services through the internet, which helps," Wilma says.
Tim adds that Edgewood's regular email updates to family members also provide peace of mind. However, Alden chimes in that this sometimes means his children "know what's happening even before we do," he says with a smile.
Overall, the Flakolls say the key to getting through tough times like a global pandemic is to wake up each day "with a purpose" while they patiently await the day they can hug one another again.
"This (virus) isn't going to go away overnight, but every day we need to do something that benefits society, helps others, or achieves a goal," Tim says. "We all need to do what we can and keep pushing forward."
If you wish to arrange a virtual visit or another meaningful connection with a family member in one of our Edgewood communities, please contact the Edgewood Healthcare staff at that location and we will be happy to assist you.
If you have any questions about Edgewood Healthcare's protocols during COVID-19, please email us at info@edgewoodhealthcare.com.