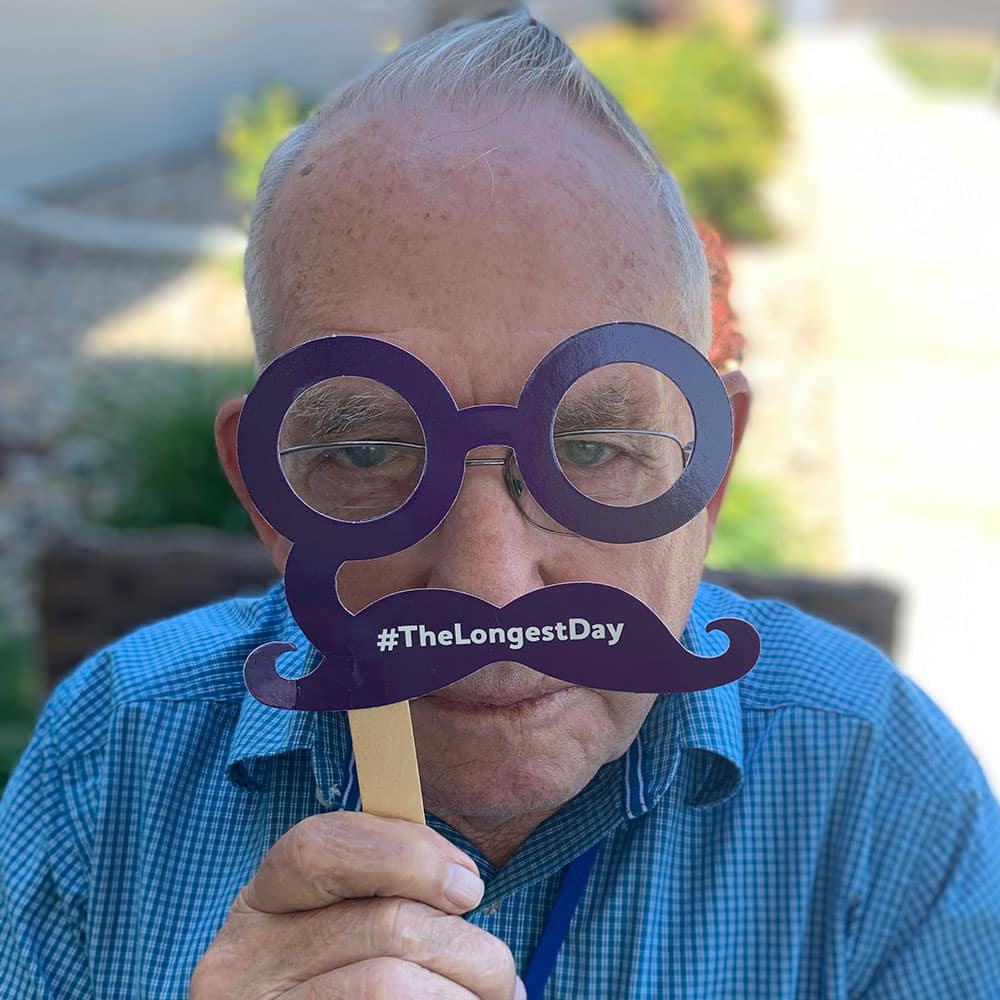 An elderly man walks to a dining room and smiles at a young lady with a flowing brown ponytail. He greets her and asks if she'll accompany him to Saturday's dance. She smiles and says, "You bet, I can't wait!" He beams from ear to ear with a confident smile and joins his friends at the breakfast table.
This might look like a bizarre exchange from the outside looking in because he's 82, and she's 20. The young lady knows that in his mind, he's 17 years old and today, he thought he was back at school. She makes his day by NOT orienting him that she's actually a staff member who's paid to assist him at the memory care community where he lives.
This kind gentleman is your dad, and he has Alzheimer's disease. Alzheimer's is the most common type of dementia. It's explained by the Alzheimer's Association as a type of dementia that affects memory, thinking, and behavior. The symptoms of Alzheimer's can become severe enough to affect everyday life, and for your dad, they do. He cannot remember the last 40 years. Thankfully, even despite his diagnosis, he continues to shine. He has activities and hobbies that keep him fulfilled, and he receives care from specially trained staff members who can assist him 24 hours a day.
The young staff member's response to your dad's question was filled with kindness and grace. It's a helpful way to respond to someone who has Alzheimer's. At Edgewood's memory care communities, we don't correct someone's confusion or explain that they're wrong. When a resident is upset because they can't find their car or need to get to the field to do farm work, we don't remind them that they sold their car and their farm. Instead, we might explain that their car is in the shop today for an oil change, and the field is too wet because of the rain. We know that Alzheimer's disease is hard enough without adding frustration.
At Edgewood Healthcare, we focus on meeting all of the needs of our residents; physically, intellectually, spiritually, emotionally, and socially. We also work tirelessly to maintain their dignity. Our staff is specially trained to support those with dementia, to meet them where they are so they can reignite the memories they hold dear.
From music and life stations to dancing and light exercises, our life enrichment staff take the time to get to know our residents individually. Because we learn personal details and preferences, we're able to offer activities that make residents feel their very best. Knowing their histories and some of the important memories from long ago helps us to be extra considerate of how they're feeling and thinking. Even though Alzheimer's can bring challenging days, when residents choose to make memory care at Edgewood home, we strive to make it comfortable, safe, and meaningful.
While there's no cure for a form of dementia like Alzheimer's disease, we do have strong hope that someday there will be. Organizations like the Alzheimer's Association have laid the foundation to provide fundraising opportunities that raise awareness, provide education, and offer that hope.
The Alzheimer's Association works diligently to help families, caregivers, and those who are experiencing Alzheimer's and other forms of dementia. Their webpage, www.alz.org, contains a wealth of helpful information, from educational articles to tips and tricks on how to manage difficult behaviors that can accompany Alzheimer's. They also offer a 24-hour helpline to provide resources and referrals to help you support those you love battling this disease.
The Alzheimer's Association Helpline is available 24/7 at
1-800-272-3900
Join Edgewood Healthcare and the Alzheimer's Association this year to fight the darkness of Alzheimer's on The Longest Day!
June 21st is the summer solstice, which is the longest day of sunlight all year. The Alzheimer's Association created its annual event, called "The Longest Day," to help shed light on the darkness of Alzheimer's. By fundraising and enjoying activities with friends and loved ones, we celebrate the light on The Longest Day with the hope that there will be a cure.
Edgewood Healthcare and the Alzheimer's Association have been partnering for several years to raise funds and awareness for The Longest Day. Melissa LaBonge, Senior Associate Director of Constituent Events and Partnerships from the Alzheimer's Association, explains how impactful our partnership has been over the years:
Edgewood and its communities across the country have shown unwavering commitment to helping fuel critical Alzheimer's Association care, support, and research programs. In two years as a Global Team for The Longest Day, Edgewood Healthcare has raised over $131,000 by hosting fun, creative events in their communities. We are grateful for Edgewood Healthcare's dedication to the mission of our organization and the incredible work they do every day to raise awareness and help us reach more families through their annual education series.
This year, Edgewood healthcare and The Alzheimer's Association are supporting The Longest Day with a three-part educational series. We hope you can join us to learn how to help those experiencing Alzheimer's receive support to create more joy along their journey!
Creating Joy In The Journey
Session 1: Joy
June 16th  |  12 pm – 1 pm

We will be hosting the first of our educational series events, titled "Joy." It will focus on creative ways to keep those special connections with your loved ones alive. We will talk about specific activities that can be incorporated into your loved one's day to spark warm memories that bring them joy.
Session 2: Support
July 14th  |  12 pm – 1 pm
We will host the second presentation in our educational series. This series will discuss all of the available resources for families and caregivers of those experiencing dementia. We want to reach everyone who needs support so that they know there is help available, and they don't have to try to manage the difficulties alone.
Session 3: Hope
August 18th  |  12 pm – 1 pm
Our session will focus on information and the most up-to-date findings on Alzheimer's from the 2022 Alzheimer's Association's International Conference. We will discuss facts and figures from this conference, as well as new treatments available and lifestyle modifications that may help to prevent Alzheimer's disease. This is one you won't want to miss!
To sign up for our educational series, please visit https://bit.ly/edgewoodeducation, or call 701.330.2626.
Join one or more of our events!
Edgewood Healthcare is an active participant and global team sponsor of the Alzheimer's Association's nationwide events of The Longest Day. We have a number of events beyond our education series for everyone to show their support. Kim Brakke, Regional Sales & Public Relations Director at Edgewood, has been instrumental in Edgewood's partnership with the Alzheimer's Association in hosting and promoting educational and fundraising events.
Kim highlighted just how creative and fun the events can be:
One of the best things about celebrating The Longest Day is the flexibility. With 65 communities across 7 states, Edgewood has many events and fundraisers to choose from. While we celebrate The Longest Day on the summer solstice, June 21st, there's flexibility for teams to do their fundraising and awareness events on a different day if it works better for their community. We have t-shirt sales, walk/run events, golf tournaments, silent auctions, bake sales, walker & wheelchair washes, raffles, and car shows. Some communities celebrate with single-day events, some offer multiple fundraising events throughout the week, and some communities raise awareness and funds all year long! The best part: all of the funds raised by The Longest Day events go to the Alzheimer's Association to help the local community where you live!
 If you'd like to participate in an event or two this year, Kim recommends that you visit the Facebook page of an Edgewood community near you to find an event to celebrate The Longest Day!