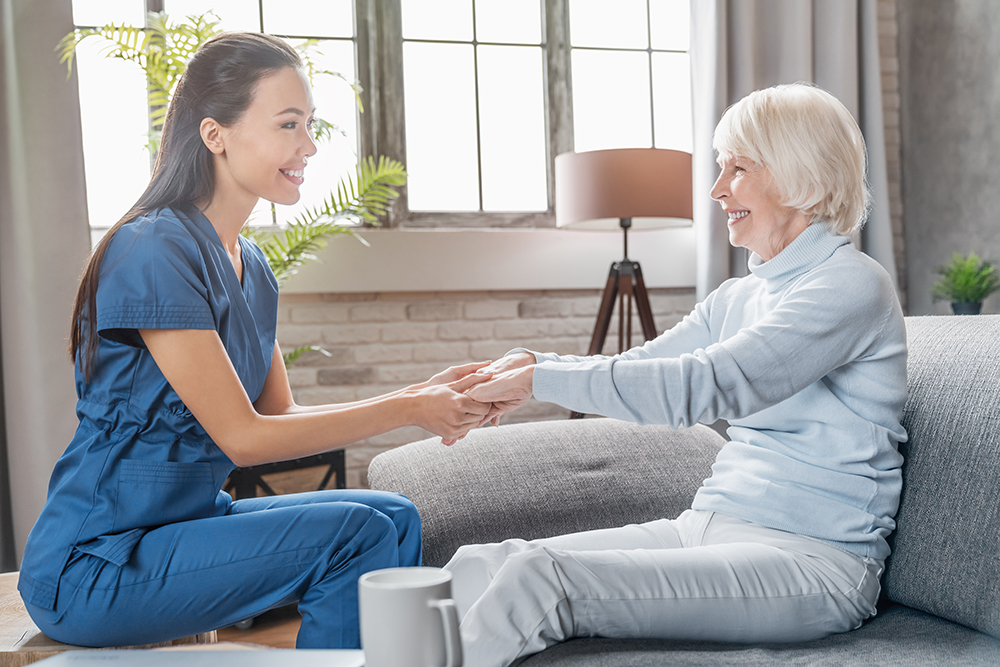 November 16 is National Rural Health Day. To honor this day, we'd like to shed some light on how Edgewood has been helping residents in cities large and small to receive healthcare services right where they're needed most: on-site!
Edgewood's Medical Partnerships
At Edgewood, we want our residents to feel like they're thriving in the comfort of a community that cares. To accomplish this, we feature additional services on-site to meet their healthcare needs through our partner companies: CaringEdge, All Care, Legacy Medical, Pioneer Family Medicine, and Aspire Clinical Intelligence.
These companies are separate from Edgewood and offer optional services for residents to utilize. They are not included in the rent or care and services costs because they're medical services requiring Medicare, Medicaid, private insurance, or private pay.
Legacy Medical & Pioneer Family Medicine:
These companies offer primary healthcare services by nurse practitioners or "NPs" to treat common health conditions. Legacy Medical helps across many Edgewood communities, while Pioneer Family Medicine operates in Boise, ID.
CaringEdge & All Care Health Solutions
 These companies provide on-site or outpatient physical, occupational, and speech therapies, home health, and hospice. CaringEdge operates in many communities, while All Care is in Idaho and primarily offers home health and hospice.
Aspire Clinical Intelligence:
Aspire operates in all of our Edgewood communities. They offer remote and after-hours nursing services as part of its A6 Triage Division to help clinical staff address health conditions. Aspire's A6 Clinical Division also provides several technologies, including state-of-the-art software, to flag common health risks and conditions.
Healthcare at Your Fingertips
 Aging can bring changes. From unexpected injuries to temporary or long-term illnesses that might catch up with us, it's important to have access to care.
Offering healthcare on-site can help those residing in senior living communities to have the opportunity to be proactive about their health. With digital state-of-the-art software to track vitals and health trends and a nurse, case manager, and nurse practitioner, seniors can feel their best.
Convenience & Choice
Driving or even riding back and forth to frequent medical appointments can be enough to reduce someone's life satisfaction. Managing appointments, navigating waiting rooms and emergency departments, or having frequent hospitalizations can all take their toll.
It's important to us to provide access to care, but residents are still given the choice not to accept it. When one of Edgewood's partners offers medical services, they're optional and not meant to replace preferred providers.
Residents may choose the on-site nurse practitioners as their primary care providers; however, this is not required. If someone wishes to be seen for treatment on occasion by the on-site clinicians, those clinicians will still update the resident's primary care team off-site.
Quality of Life
Rural communities can come with many barriers, including access to seeing clinicians. The list barring someone from medical care can be endless, from great distances to travel to bad weather to a lack of providers, and the list goes on.
If an appointment is missed or delayed, health can indefinitely deteriorate, negatively impacting someone's life. Even common and treatable conditions can become more significant if people are forced to wait. When health or abilities are diminished, enjoying our community amenities is hard.
Better health can mean better quality of life, but only when the resources are available. We're eternally grateful to all of our clinicians and partnerships who help our residents live their best possible lives in our care!
If you're interested in exploring senior living at Edgewood, please contact us by email at info@edgewoodhealthcare.com.