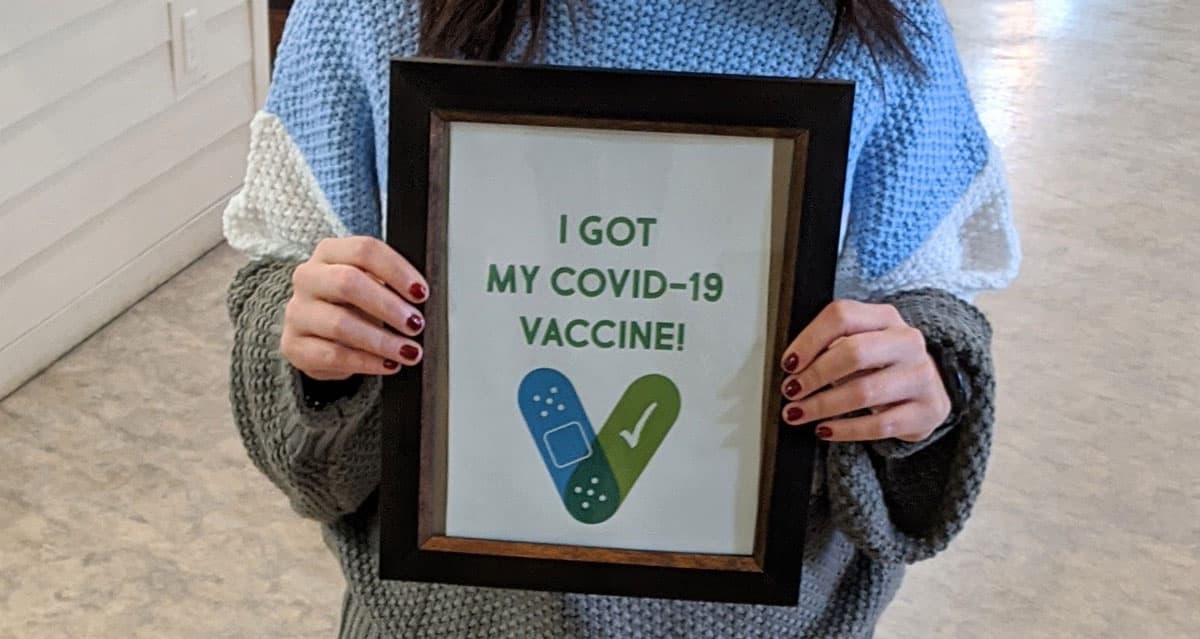 Since the coronavirus pandemic began in the United States nearly a year ago, our top priority at Edgewood Healthcare has always been the safety of our residents and staff.
For months, our communities have been social distancing, testing, masking, and disinfecting surfaces to protect one another, which has made for a challenging time of stress, isolation, uncertainty, loss, and grief for both our residents and employees.
However, now that inoculations of the COVID-19 vaccine have begun throughout our 64 communities in seven states, we believe brighter days are ahead of us. As of March 25, 84% of our residents have received their first dose of the vaccine. This figure continues to grow each day.
Vaccine distribution varies by state – including logistics, supply, and timeline – but Edgewood Healthcare is committed to offering the vaccine to every resident and employee who wants it once doses are available in their community. We appreciate your patience throughout this process.
Edgewood Healthcare strongly encourages our residents to get vaccinated as soon as possible to protect themselves and their neighbors, but as with access to any of our health services or providers, we respect their right to choose to be vaccinated.
Rest assured that all vaccines distributed in our communities are safe, effective, and authorized for emergency use by the US Food and Drug Administration. However, an important part of this reassurance is sharing first-hand experiences of Edgewood residents who have chosen to receive the COVID-19 vaccine, like Shirley Bodmer of Edgewood Plantation Place in Boise, ID, and Hermelle Wilson of Edgewood Fargo in Fargo, ND.
Keep reading to learn why Shirley and Hermelle are getting the coronavirus vaccine and what they are looking forward to in the future, as their experiences may help other residents and their family members feel more confident about getting the COVID-19 vaccine once it is available to them.
As for other senior living residents, the coronavirus pandemic has been challenging for 90-year-old Shirley Bodmer, who has lived at Edgewood Plantation Place in Boise for five years.
Since the beginning, Shirley has been vigilant about COVID-19 safety measures by rarely leaving her room and relying on Edgewood staff to deliver her meals and provide safe one-on-one opportunities (with appropriate PPE) to connect through essential daily activities. She has been eager to receive the COVID-19 vaccine once the US Food and Drug Administration approved it for emergency use among healthcare workers and long-term care residents.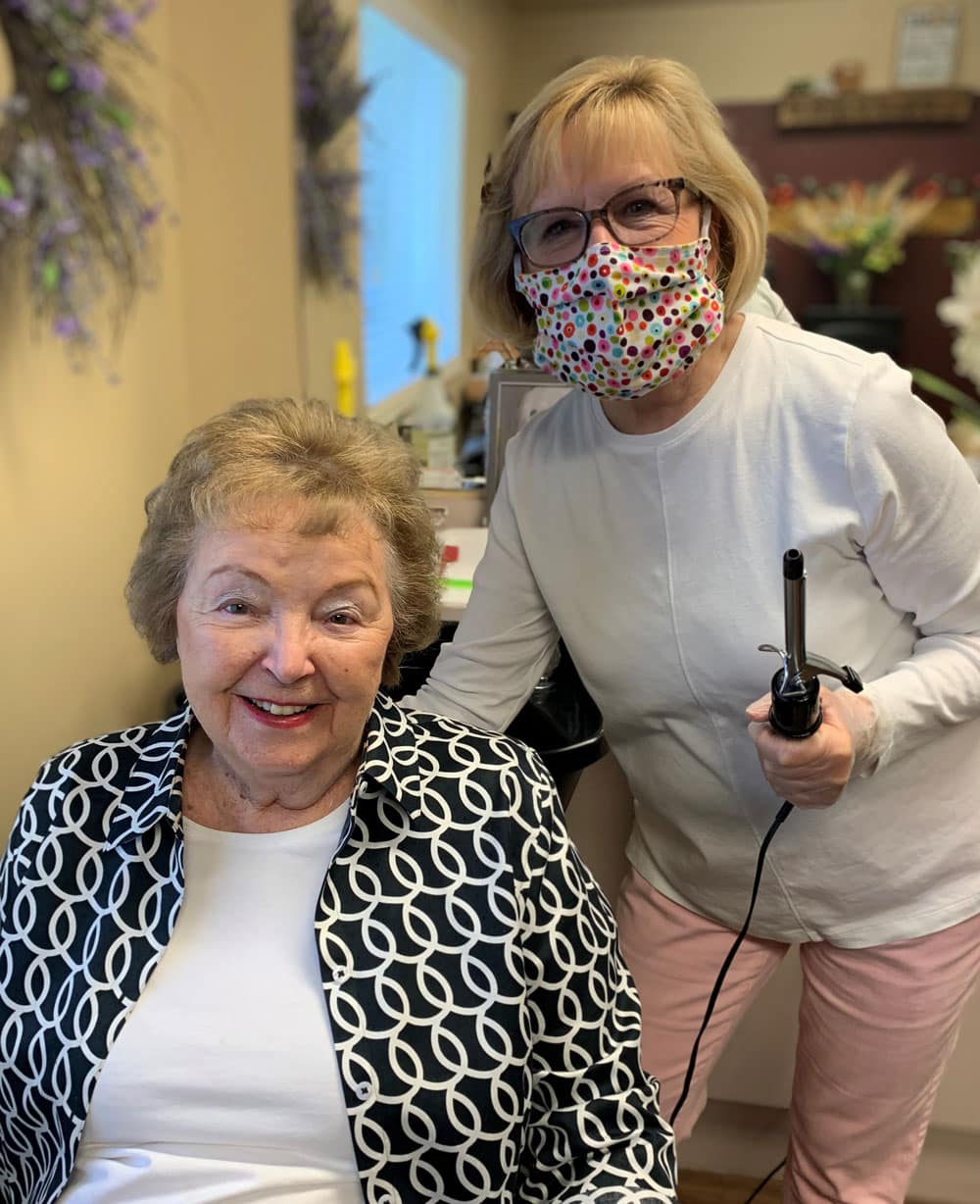 She says she "never thought about not taking it," as she remembers the stress and heartbreak of the polio epidemic when she was young. Throughout her life, vaccines have always been the ticket back to normal life after an epidemic, she adds.
"It's amazing that we've gotten (the coronavirus vaccine) so quickly," shares Shirley, who was closely eyeing her upcoming appointment for her first vaccine dose on the calendar at the time of our phone interview. "I trust the experts and I think it's the only answer."
Mary Ann Murdoch, Community Outreach Coordinator at Edgewood Plantation Place who has known Shirley for many years, says Shirley was active in the community before the pandemic and has been "a positive light" throughout this difficult time of isolation.
While Mary Ann has been more than happy to help with Shirley's shopping during the pandemic, she knows Shirley is ready to get her independence back once she and her neighbors are vaccinated.
"This is the stage in her life when time with her friends and family is precious," says Mary Ann. "Her family does Zoom meetings every Sunday, and while that has helped, the physical human connection is not there. She wants to hug her children and grandchildren."
"They may need my advice sometimes," chimes in Shirley with a smile. "I will be glad when we can have normalcy again."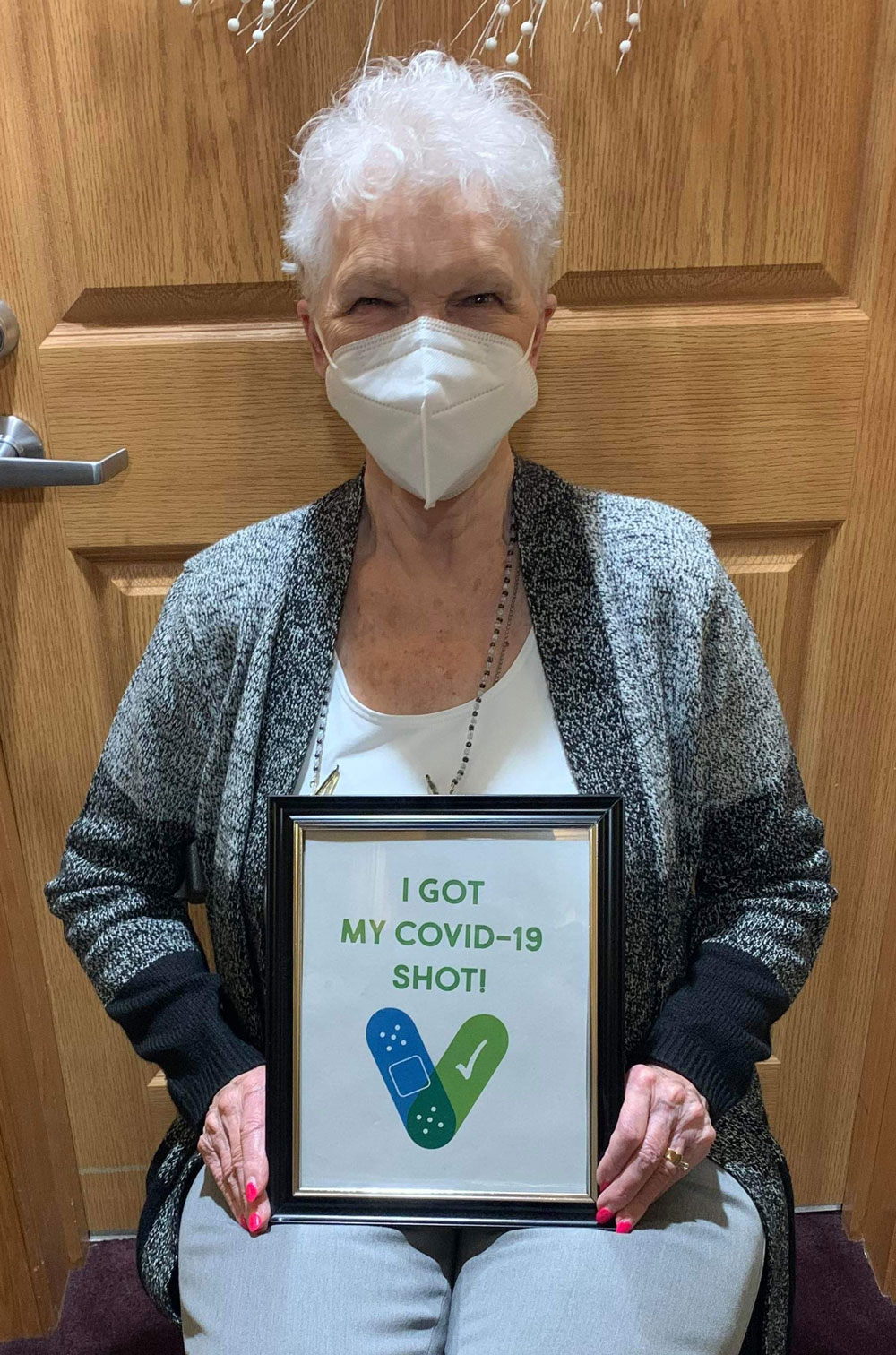 Like Shirley, 86-year-old Hermelle Wilson of Edgewood Fargo in Fargo, ND, did not hesitate about receiving the coronavirus vaccine. Fortunately, Hermelle has already received both doses of the COVID-19 vaccine and said she "didn't even get a sore arm."
"They came right to my room and gave me the shot," shares Hermelle, who has lived at Edgewood since 2017. She "felt good" afterward and celebrated with a well-deserved shot of Bailey's as part of Edgewood Fargo's "Shot for a Shot" initiative along with other newly vaccinated residents.
"I was happy to have something. Getting the vaccine really put me at ease," shares Hermelle. "I felt like if I wanted to get back out in the world, I needed to do what I could to protect myself."
Hermelle also recalls the polio and measles epidemics as part of her reason to get the COVID-19 vaccine. During the measles outbreak in her youth, she remembers quarantining with her large family, and the sign that health officials put in her yard to notify all the passers-by that everyone in her house was isolating.
"You couldn't do anything (during the measles outbreak)," says Hermelle. "That's another vaccine that has taken away a lot of fear."
Kelsey Schaunaman, Regional Sales and Public Relations Specialist at Edgewood Fargo, says there is an air of hope among residents and staff now that the vaccine rollout has begun. From an employee standpoint, Kelsey says she and her colleagues are grateful to receive the vaccine and are feeling less stressed about bringing COVID-19 into their community. She encourages everyone "to think about what seniors have been through" and to "consider getting the vaccine for them," she says.
"For people who live outside of senior living, it's hard to imagine the isolation these seniors have been through," Kelsey adds. "Getting vaccinated is not only important for themselves, but also for seniors and other vulnerable populations to get their lives back."
Now that COVID-19 vaccinations have begun, both Shirley and Hermelle expressed optimism for the future. They are looking forward to safely seeing their friends and family again and getting back to fully enjoying the simple pleasures of their golden years when the risk of COVID-19 has subsided.
Once they are both vaccinated, Shirley says the first thing she is going to do is "take a long, leisurely drive in the country" with her son and "get an ice-cream cone." When asked what flavor, she responded without hesitation: "Chocolate."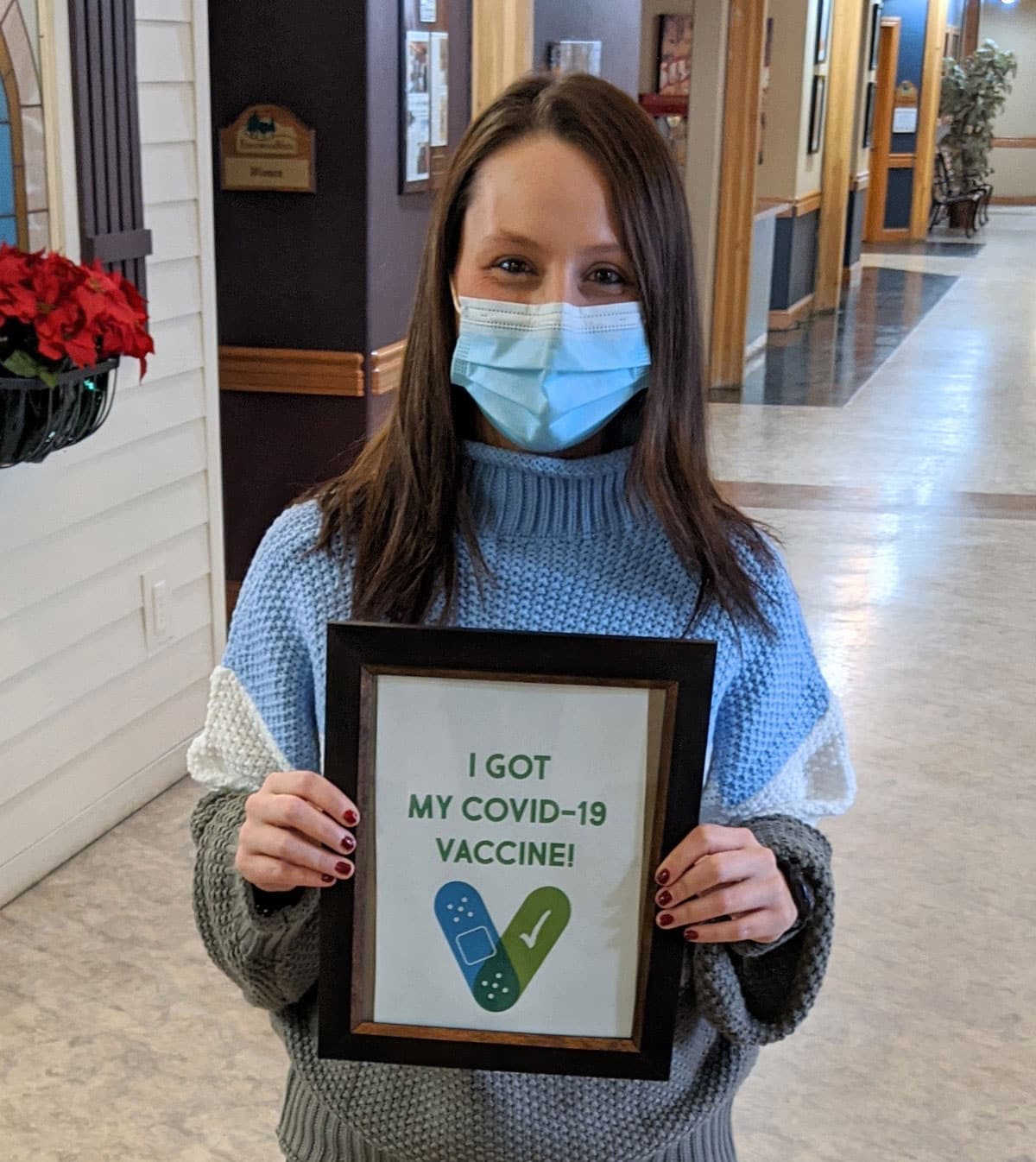 "I also want to go to the store," Shirley says, adding that she hasn't bought new clothes for nearly a year. "People have been so kind to do (my shopping) for me, but I want to go to a store and try clothes on – and feel safe doing it."
For Hermelle, she's looking forward to "getting back in the chapel" in her community, enjoying live music events, eating in the dining room, and having more visitors in her home.
"We've been thinking of the large community events we used to do," Kelsey chimes in. "It will be good to have those family members back in our building."
Mary Ann shared similar sentiments. "I'm very positive about the future," she says. "We're ready to move forward."
Edgewood Healthcare shares this optimism. Although it's been a difficult year, we also have marveled at the strength, resilience, and creativity we have observed by our residents, employees, and their family members to stay connected during COVID-19.
But we know a Zoom call cannot replace the feeling of a hug and the feeling of being in a room with people you love. That's why we're committed to doing everything we can to ensure residents and employees receive their vaccinations as soon as possible.
During the vaccine rollout in our communities, we continue to follow all CDC guidelines to keep our residents and employees safe. To learn more about our COVID-19 protocols or the vaccine distribution status for a specific community, please email info@edgewoodhealthcare.com or contact an Edgewood community near you.