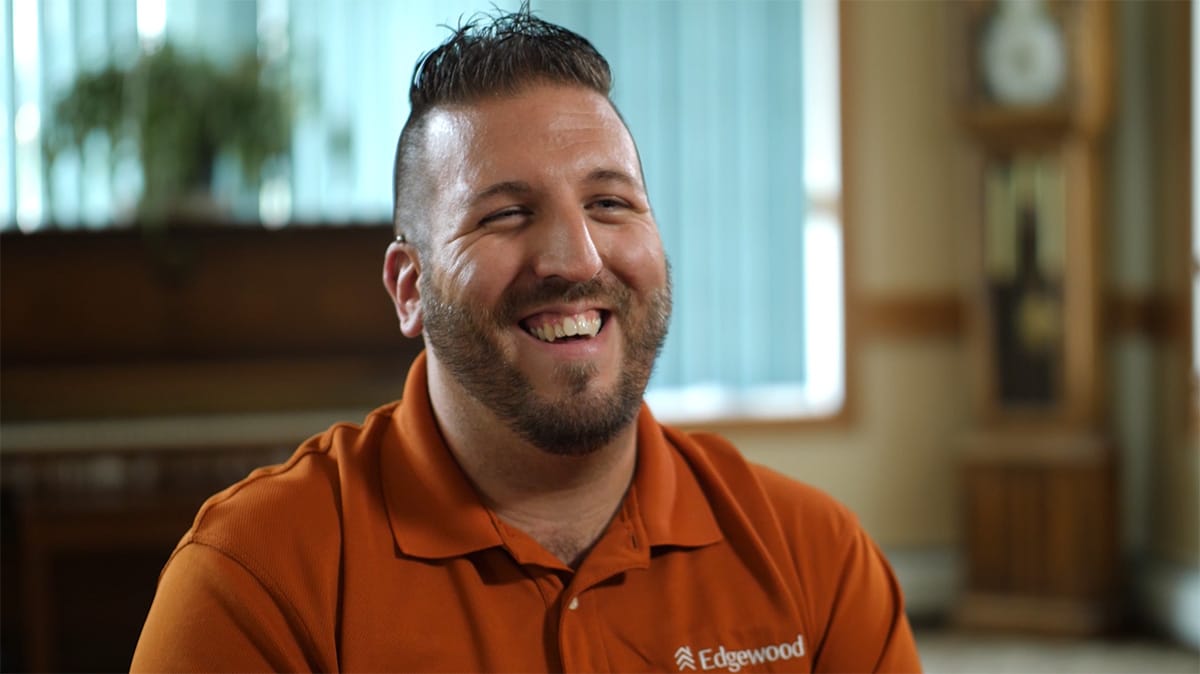 These days, you can't miss the influx of "now hiring" signs painting our cities. There has been much buzz in the news about large numbers of people changing jobs and finding alternative careers as we look to the end of the COVID-19 pandemic (we hope!). While it's definitely a job-seeker's market right now, let's talk about career incentives. Benefits and fair wages are always important, but what is it about a job or a company that attracts applicants and retains employees?
We had the exciting opportunity to sit down with Ben Hall, one of our own, at Edgewood to learn more about his experience working at Edgewood.
In 2007, Ben began his career as a Dining Assistant. From there, he worked in the roles of Personal Care Assistant and Certified Nursing Assistant (CNA). He continued as a CNA and added medication passer to his duties. From this role, he moved into the business office, working as an assistant, and then moved on to the role of Business Office Director.
Ben continued to thrive, and enjoyed encouraging new staff to join the team at Edgewood, so he moved into the Recruitment Specialist role. At present day, he is now enjoying the position of Assistant Executive Director at Edgewood in Virginia, MN, where he adores the residents and his co-workers.
In a matter of 15 years, Ben worked through these positions with the encouragement of his co-workers, many of whom have been with Edgewood-Virginia for 10, 15, and 20 years. At the end of the day, co-workers can become like a second family. Ben found HR to be incredibly supportive and helpful as he transitioned through his various roles as well.
Ben's favorite part about his work is the residents and the special connections he's made with them. "They make my day! Knowing that at the end of the day, your work helped someone is extremely rewarding." He has said more than once, "I want to retire working at Edgewood."
Check out this short video on Ben's journey through Edgewood!
Here are four things to look for in your next job search:
1. Work-life balance
Finding a flexible and empathetic employer who encourages work-life balance, and has a family-first attitude, is pretty huge these days. While employees shouldn't come into the game expecting to have endless paid time off, some balance is important. Just as employees are willing to go the extra mile by staying late to meet deadlines, it's important for your employer to offer you flexibility too. No one wants to miss their sister's wedding, niece's christening, or even their hairdresser's cat's 16th birthday! We all have commitments and relationships that are important to us, and when you find a company that recognizes this, you may want to hang onto them!
2. Strong, but approachable leadership
Strong leadership and open communication are crucial to successful company culture. It's important that leaders are willing to offer helpful feedback and share their knowledge. Ask what the onboarding process looks like and if you will be encouraged to continue to learn new skills through internal and external training opportunities.
When you interview, ask about communication practices. Does your supervisor have an open-door policy? Is HR approachable to discuss career moves, benefits, or any questions that may arise?
Don't look for a great boss; look for a great leader who's willing to invest in you. Managers and supervisors who promote fairness, and offer guidance and feedback to help you improve tend to be great motivators.
3. Opportunities to advance
Find a company that prides itself on creating opportunities for advancement. Many of us don't want to remain in the exact same role for 30 years. Be sure to ask during your interview what employee recognition looks like. Are there rewards or compensation packages that accompany years of service, promotions, or other benefits that help to push you to go the extra mile?
4. Meaningful work
What gives a job meaning? The "why behind it."
People don't buy what you do; they buy why you do it. And what you do simply proves what you believe.
What's meaningful about a particular position is unique to each of us. If you can't see how a job can be meaningful, you may not feel connected to it. If you're disconnected, it may be tough to fully invest long-term. Jobs should be more than just collecting a paycheck; passion for the industry you choose is important.
In senior living, compassion for helping others is a must. Ben explained that to succeed in any job, a positive attitude about the work is important, regardless of the position you're applying for.
Careers at Edgewood
It's easy to see what makes the work at Edgewood meaningful; it's written on the faces of our amazing residents! There's no question who benefits when any one of us completes a job well done. We want to make senior living a positive experience for everyone who calls Edgewood home. That is exactly what drives us to do excellent work; our residents are the foundation of our "why."
Interested in career opportunities at Edgewood? We have a variety of open positions spanning seven states inside 65 fantastic senior living communities. We hire healthcare and personal care professionals, social workers, sales professionals, and executives. We have open reception and maintenance positions, dining assistants, cooks, and life enrichment to keep all of our residents enjoying their retirement life.
As you can see from Ben's awesome experience with us, there are many opportunities to advance when you work hard! Whether you choose Edgewood full-time or part-time, we have positions that will help you feel good at the end of your day and help to easily define your "why!"
Reach out to us today at info@edgewoodhealthcare.com, or check our careers page to learn more.