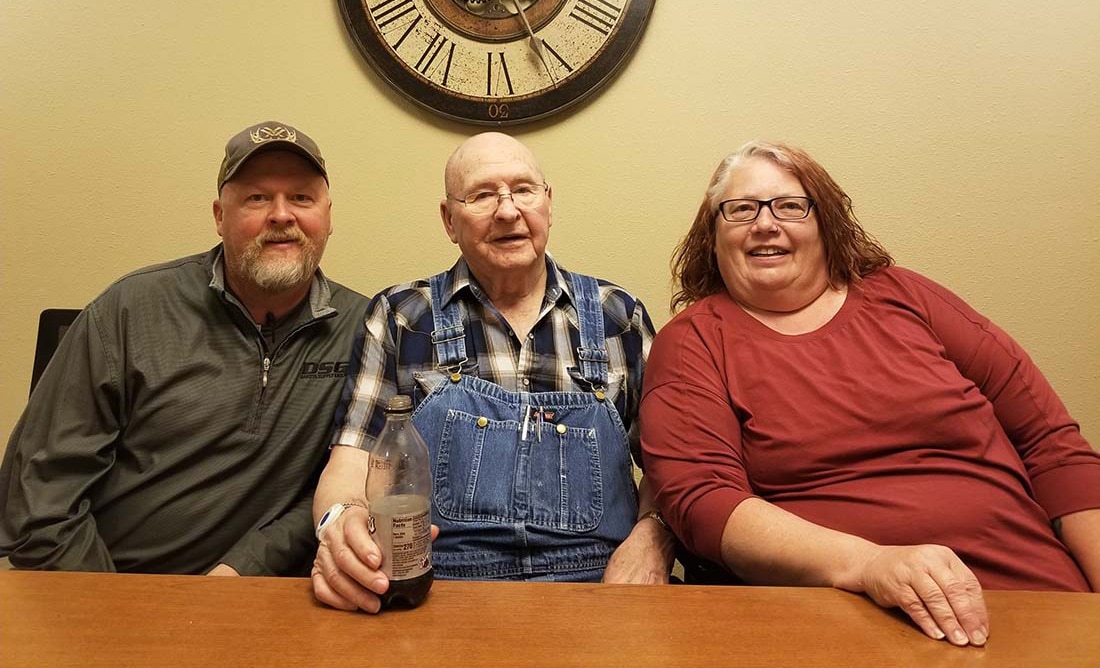 Think back on your most influential teachers, and the amazing lessons they taught you. You may not have realized it then, but you were receiving a priceless gift, all because they took the time. Time is invaluable, and so is being able to say, "My dad taught me that."
We were lucky enough to get a glimpse inside family life for Edgewood Pierre resident Lowell King. Lowell and two of his children, Matt and Trudie, shared some of their fun family stories about learning to work hard and using those valuable lessons that a dad has to offer.
Being a dad is…
Being ready! 
The anticipation of becoming a father comes with many emotions, but the biggest feeling of all is LOVE! Lowell explained that when he and his wife, Thelma, began the adoption process, they were given about a year's timeline to wait. They were happily surprised with a phone call after just five months that they would be welcoming baby Trudie. Next came baby Matt, and their youngest, baby Nancy, followed.
Sharing laughter.
Lowell recalled that when Nancy joined their family, "She cried for about the first three years. If she would have been the first, she might have been the last." Lowell said that with proud laughter, and Trudie and Matt chimed in explaining that they "love" to remind Nancy of this whenever the occasion arises. (Nancy resides in Alaska, but remains close to her dad with frequent calls and visits to the lower 48.)
Passing along knowledge.
"My kids and grandkids sure know how to work." Lowell proudly taught them all of the things he knows:
When it came time to get their driver's licenses, they all knew how to drive. I taught them out in the field.
Lowell and Thelma raised their family on a farm, where they had sheep, chickens, and hogs. There was always something to do, and Lowell loved teaching his family the value of a hard day's work. Trudie shared that they all worked together, canning and processing all of the wonderful things they grew in the garden. Both Trudie and Matt agree that they learned so many important things from Lowell that have been instrumental in their own lives today.
Matt explained,
When my dad was teaching me things growing up, I had no idea I was being taught. Later on, I knew how to do things. When I thought back on it, I realized he was teaching me the whole time. He taught me plumbing, carpentry, and woodworking.
Lowell shared that Trudie was always at his side, so helping her learn things was easy. "If I was under the hood of the car, there she was." "I followed dad around from day one," Trudie said. He taught her how to drive a stick shift, change oil, and do her own car maintenance. She got to surprise her friends back in high school by fixing a flat tire on the side of the road, which was a proud dad moment for Lowell!
Matt explained that growing up, if he were to grumble about the work he was doing and his dad heard it, he might be given a less than desirable task. Trudie interjected with laughter, "That could mean cleaning the chicken coop." Cleaning out the coop was a chore reserved for being late past curfew, too, which one of their exchange students got to experience.
Welcoming family.
As Lowell raised his own family, he accepted more children into their home too. They were hosts to four different exchange students over the years: Fernando, Nina, Fabio, and Tanya. Today, they remain connected. Lowell and his wife even traveled to Denmark to visit. This was a great experience for the Kings and for the host students to be welcomed into a caring family.
Lowell's family continues to expand. He has several grandchildren and great-grandchildren with whom he remains close. Lowell shared many fun hobbies and lessons with them, too, teaching them his expertise in fishing, hunting, and woodworking.
Staying close.
Lowell has lived at Edgewood for 5 years. He moved in with his wife Thelma, who sadly passed away in January of this year. Lowell decided to make his move into Edgewood to be with Thelma who required 'round the clock care. Moving to Edgewood offered peace of mind to them and their family.
The Kings have always been very close-knit, and that didn't stop when Lowell moved into Edgewood. Lowell remarked,
I talk to them every day. They always get me things if I need something.
During the recent COVID-19 pandemic, their bond remained strong too. Lowell was fortunate to have one of his grandsons working at his Edgewood community in Pierre, so they were able to continue seeing one another in person.
Keeping busy.
Lowell went to school until eighth grade, when he chose to go to work. Lowell retired from a local power plant, where he was a foreman for the last eight years of his career. He's traveled, farmed, hunted, gardened, and been an incredible role model to his children and grandchildren.
Since moving to Edgewood, Lowell remains active. While he enjoys having a spacious apartment with many of his waterfowl mounts proudly displayed, he spends a lot of time on the move too.  He said,
I like to keep moving. I walk the halls at least 3 to 4 times every day for exercise. I like the group exercises too. Theresa does a great job with us!
Lowell enjoys the activities offered by life enrichment and doesn't like to miss BINGO. He gets excited to tell his daughter Trudie when he's received another gift card for winning. He also enjoys socializing with everyone, both staff and other residents. Lowell has a good friend with whom sits with for meals each day, and another friend who likes to take him out to one of his favorite restaurants, Pizza Ranch.
Celebrating!
Lowell is spending Father's Day with his son, Matt, in Pierre this year. While plans are still in the works, we know there will be laughter, reminiscing, and who knows, maybe some teaching too!
We are so grateful for the amazing opportunity to meet Lowell and his family. It's touching to see the first-hand account of a father's love and dedication to making the world a better place through teaching each of his younger generations.
If you are looking for ways to keep dad connected or opportunities to keep him busy, contact us at Edgewood Healthcare. To all of the dads out there, Happy Father's Day!