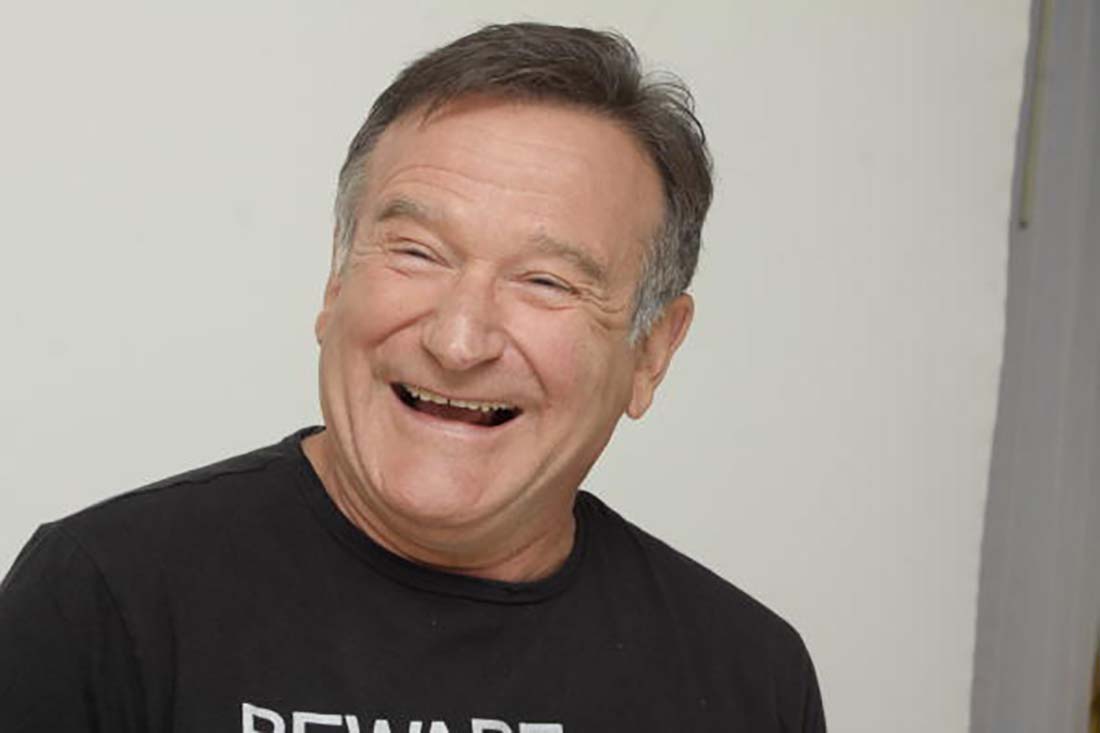 Did Mrs. Doubtfire have you in stitches? Maybe the endearing Patch Adams grabbed you by the heartstrings and made you fall in love with Robin Williams. From Mork to Popeye, Robin Williams captured the attention and hearts of many. Robin would have turned 72 years old on July 21st, and his life ended tragically on August 11, 2014.
At the time of his passing, Robin had been diagnosed with Parkinson's disease. He reportedly struggled with sleep difficulties and memory issues. It was later discovered that Robin suffered from Lewy body dementia. Unbeknownst to him, this diagnosis caused great strife before he made the tragic decision to end his life. Rather than focusing on how he passed away, let's highlight how he lived.
Robin was an actor, comedian, cyclist, friend, father, and husband. He was a volunteer and philanthropist. The United Service Organizations, or "USO," reported that Robin volunteered with them for over 12 years, entertaining the troops at home and abroad. He also volunteered his time for organizations like the Livestrong Foundation, Christopher and Dana Reeve Foundation, Comic Relief, St. Jude Children's Research Hospital, and other charities to help those in need.
Robin Williams was a wonderful, kind, and generous man. One important thing I remember about his personality is that he was unassuming—he never acted as if he was powerful or famous.
—Patch Adams
Robin was in it for the people. He enjoyed helping others, and he took the time. In one of his books, he wrote a passage that said, "I want to help people be less afraid." The line was discovered by his wife, Susan, after his passing. At the time of his death, there was much speculation that he had relapsed into depression or drug use, or that he was having financial difficulties. Tabloids reported many incorrect things about the beloved actor and comedian, and Susan hopes to make the public aware of what he was going through.
The film Robin's Wish highlights the struggles that Robin experienced before his passing. While Robin enjoyed riding his bike and visiting his friends, his life changed drastically, and he could no longer enjoy those activities as he once did. According to Parkinson.org, Robin reportedly suffered from paranoia, confusion, hallucinations, and insomnia, and could not smell. Before his passing, he had been diagnosed with Parkinson's disease, but it was later determined that he suffered from Lewy body dementia.
Like all dementias, the Lewy body form is complex. According to the NIH, National Institutes of Health, diagnosing Lewy body is difficult because it mimics other neurological and psychiatric disorders. NIH explains that the most prevalent symptoms of Lewy body dementia are changes in sleep, cognition, movement, and behavior.
The term Lewy body dementia can be considered an umbrella that holds Parkinson's and dementia with Lewy bodies beneath it. The difference between the two is that with Parkinson's, the symptoms first begin with changes in body movement. When someone has dementia with Lewy bodies, they may display symptoms that impact cognition, sleep, or memory before the problems with movement begin.
Lewy body dementia is the second most common form of dementia after Alzheimer's. Johns Hopkins Medicine explains that up to 1.4 million Americans may be living with a diagnosis of Lewy body dementia. However, Lewy body dementia can only be verified through an autopsy.
While Robin Williams did not divulge information about his diagnosis to the public, he shared it with his family. Robin's wife, Susan Schneider Williams, has been honoring Robin's memory by clarifying what was happening in his life before his suicide, with the hope that there will be a cure for Lewy body someday.
If you or someone you love is struggling with memory loss, don't hesitate to contact us at Edgewood Healthcare. A diagnosis like dementia is absolutely sad, but it doesn't have to be so scary with the right people by your side who understand the disease. Learn more about our memory care services by emailing us at info@edgewoodhealthcare.com.