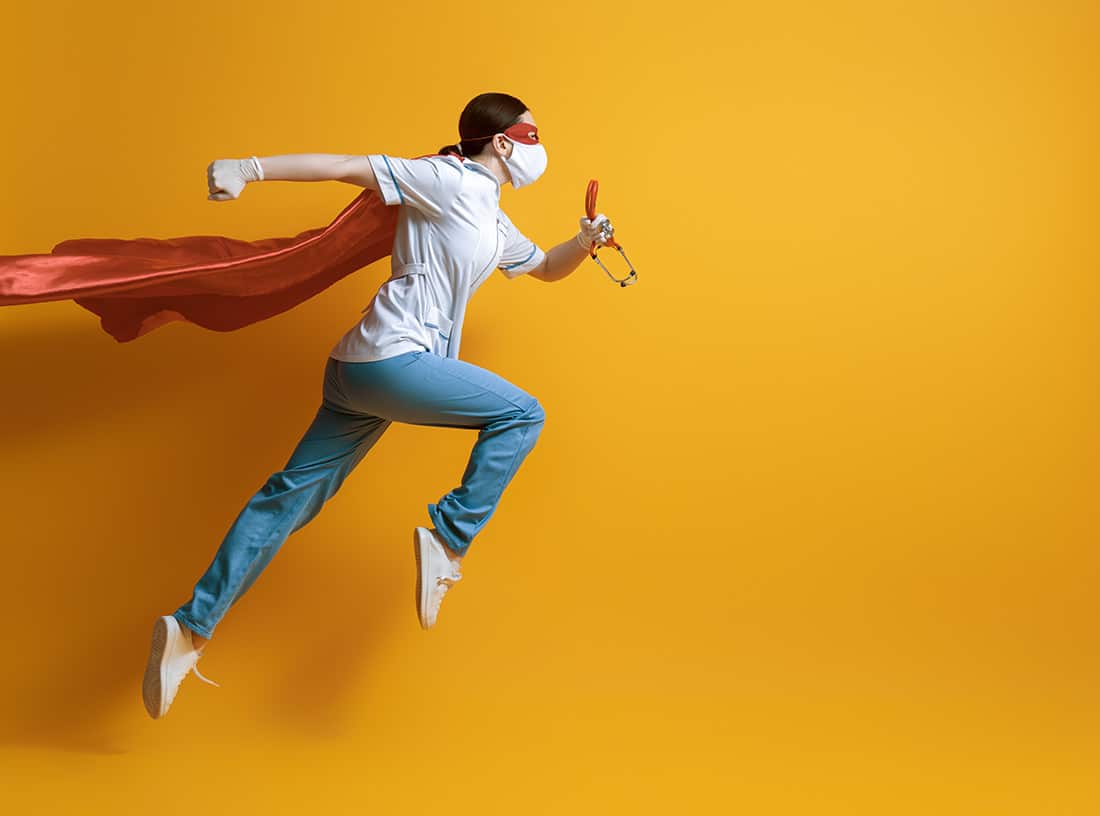 It's National Superhero Day; let's celebrate the true superheroes—nurses! Nurses have been through a lot these last few years. During the most trying times of the pandemic, they worked double shifts, spoke words of comfort as some took their last breaths, and bent over backward to help families stay connected with their loved ones. There's no doubt: they're hiding capes under those scrubs!
The nurses who serve our residents in senior living are second to none, and we have many who continue to make their careers with us for years and years. People often wonder what it is that they enjoy so much. Long-term care nursing has a perk many overlook: the residents become like family! We have heard that repeatedly as we learn the "Edgewood Why" behind so many staff working in senior living.
Meet Executive Director Heather Froling
We were privileged to visit with Heather Froling, RN, the current Executive Director of Edgewood Park Place in Casper, WY. Heather started with Edgewood back in 2011. Since she chose us, she's never left!
Heather's interest in long-term care started out when she was a Certified Nursing Assistant, or "CNA." She worked as a CNA all through college until becoming a nurse. At this time, she shared with us that she had an instructor who did an excellent job of highlighting the rewards accompanying a gerontology career. After graduating from college, her interest in senior living never waned, and she worked with us as an RN. She moved into the role of Clinical Services Director, where she spent about five years, and now she's the Executive Director. Heather said she's loved each of her roles at Edgewood.
The residents are precisely what made her stay. She and many others agree they're the best part of this work. Heather offers advice for anyone considering a career in nursing: "Try assisted living! The best thing about working here is that the residents become family. You get to experience the continuity of care; you get to know them for more than a couple of days like you might if you were a nurse in a hospital. We become part of their lives."
"When a person decides to become a nurse, they make the most important decision of their lives. They choose to dedicate themselves to the care of others."
— Margaret Harvey
Nursing Is Evolving
Nurses are in high demand and in short supply, but Aspire Clinical Intelligence, a partner of Edgewood, has been creatively problem-solving a way to meet this demand—on-call nursing. This option allows nurses to work remotely to respond to resident needs in Edgewood communities when their community nurse leaves for the day. On-call nursing services are available from 7:00 P.M. to 7:00 A.M. M-F and 24 hours per day on the weekends. This service provides residents with continuity of care and a work-life balance for full-time nurses. When a community nurse leaves for the day, they can rest, relax, and spend more uninterrupted time with their families, while the residents continue to have the care and oversight they need, too—it's a win-win!
Advice for Career Seekers
Consider Edgewood, whether you're a nurse, studying to be a nurse, or hoping to gain more experience in long-term care. You will be thrilled to make your career in one of our senior living communities or with one of our affiliate partners. Career opportunities also exist through CaringEdge, Legacy Medical, All Care, Aspire Clinical Intelligence, Pioneer Family Medicine, and Home Care Companions.
If you want to explore our open positions, check them out here. You may also reach out to learn more about senior living options at Edgewood by writing to us at info@edgewoodhealthcare.com.
THANK YOU!
For all of the nurses out there who have laughed with us, cried with us, and worn the soles of your shoes thin, providing comfort and care, we thank you! Without your kindness and altruism, our world would not be the same.
If you know a nurse, don't forget to offer a kind "thank you"; those two simple words can mean so much. Show your appreciation by sending notes of thanks, coffee, a cold bottle of water, or an act of kindness today or during Nurses' Week, May 6-12.