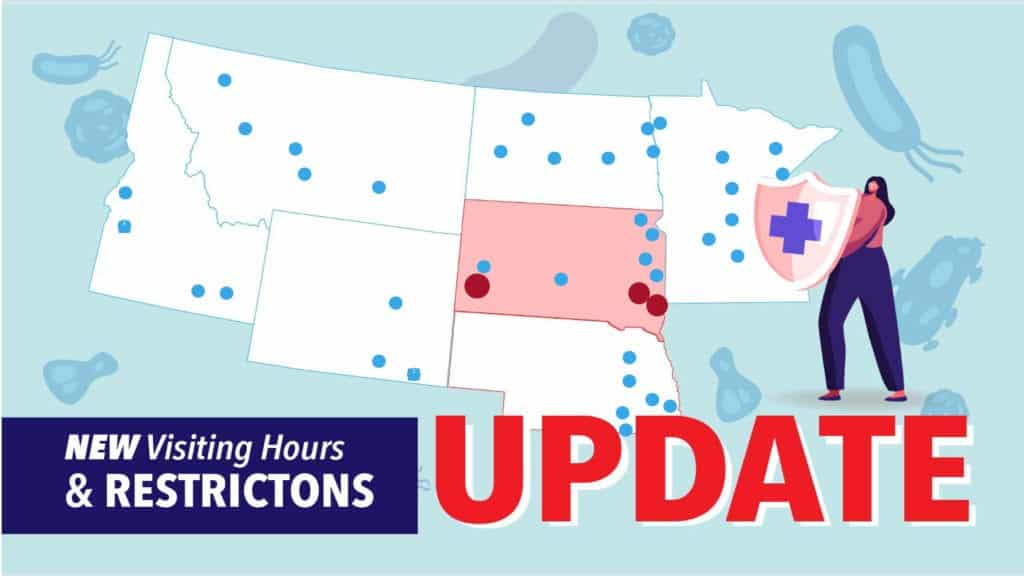 In response to the recent global outbreak of coronavirus, including concerns regarding a heightened risk of contraction and/or severity of the virus in seniors, on March 4, 2020, Edgewood Healthcare established several initial precautionary measures to best ensure the health and safety of our nearly 4,000 senior residents and our employees. Additionally, in an on-going effort to proactively protect those same individuals, Edgewood Healthcare has now reached a point of implementing further enhanced measures, as recommended by the American Health Care Association and National Center for Assisted Living (AHCA/NCAL).
Based on confirmed community cases of COVID-19, Edgewood Healthcare has made the decision to take swift and definitive action to restrict all visitors, effective immediately, at the following six South Dakota communities:
Edgewood Assisted Living – Mitchell, SD
Edgewood Memory Care – Mitchell, SD
Edgewood Assisted Living – Sioux Falls, SD
Edgewood Memory Care – Sioux Falls, SD
Edgewood Prairie Crossings Assisted Living – Sioux Falls, SD
Edgewood Assisted Living – Rapid City, SD
We will continue to evaluate on an on-going basis.
Beginning on March 12, 2020, ALL OTHER Edgewood Healthcare communities will:
Restrict daily visiting hours to the hours of 10am – 12pm and 4pm – 6pm
Designate a main entrance at each community that must be utilized by all visitors
Require all visitors log in and out during any visit
Require all residents leaving the building log in and out
Edgewood wants to thank family, friends and visitors for assisting us in protecting our residents and employees, while we continue to enforce the following best practices:
DO NOT visit if you are experiencing any symptoms such as a cough or fever
DO NOT visit if you have traveled outside of the U.S. in the last 14 days
Clean your hands immediately after arriving at & before leaving our community
Use a tissue or sleeve when coughing or sneezing
In the event of two or more confirmed cases of COVID-19 in any additional city in which an Edgewood community is located, Edgewood Healthcare will move towards restricting all visitors in that location as well. We will continue to evaluate the situation on an on-going basis.
In the meantime, Edgewood communities are encouraging families and friends to continue to use alternate means of visiting virtually with their senior loved ones, through the use of FaceTime, Skype or other video communication technologies. For more information or to coordinate a virtual visit, please reach out to your local Edgewood community; you can find a community here.
Should you have any questions regarding the coronavirus or Edgewood's related protocols, please contact us at info@edgewoodhealthcare.com.