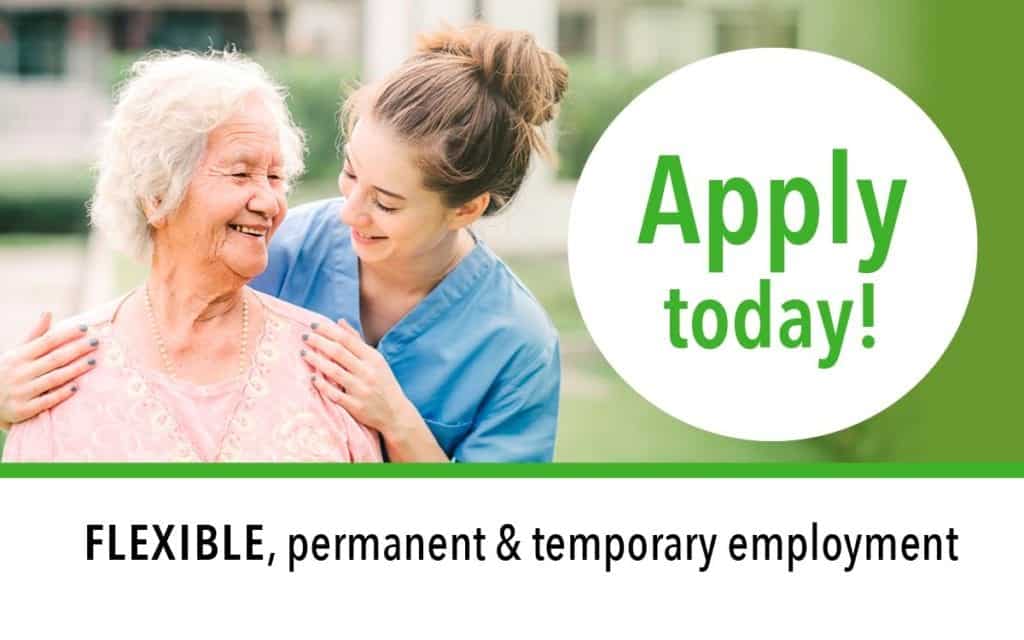 Nearly every individual, business and industry has been directly or indirectly affected during the recent, and impossible to ignore, global outbreak of coronavirus disease (officially known as COVID-19). In an on-going effort to proactively protect our seniors, the population with the most heightened risk of contraction and/or severity of the virus, Edgewood Healthcare has implemented several enhanced precautions to ensure the health and safety of our nearly 4,000 senior residents and the 2,600+ employees that support and care for them.
With the required increase in safety measures, so too comes the need for increased staffing during this unprecedented pandemic. Those involved in health care and its many supporting industries are needing additional help now more than ever.
Join our team – with confidence & convenience!
Caring for our residents is always priority number one! If you've had prior healthcare training or have been a family caregiver, you're likely a great fit to become a caregiver for the precious seniors that call our Edgewood communities home. But even if you've never worked in health or senior care, we likely still have a place you'll fit on our team, as there are many "behind the scenes" roles that are vital to the day-to-day operations of each Edgewood community such as positions in dining, housekeeping, maintenance. Plus, we offer multiple perks to make it even easier to join our team:
Flexible permanent or temporary employment options (including AM, PM and NOC shifts)
Excellent on-the-job training opportunities
Highly restricted access to our communities = very low COVID-19 exposure risk
---
---
Flexible, temporary positions
Those involved in health care and its many supporting industries are needing additional help now more than ever. While on the flip side, in the face of so many unknowns, employers in many other industries are being forced to make some very difficult decisions, such as mandating employees work from home when possible, decreasing hours for some or even laying off other workers.
Should you find yourself in a situation that affects your current employment or schooling, if you're in a position to take on additional work hours or you're just looking for ways you can help support those most at risk, our seniors, and the many healthcare workers that are so critical amid this coronavirus outbreak, please read on to learn how you can help your local Edgewood community.
Interview in the safety of your own home
In an effort to stop the spread and keep our residents, staff and YOU safe, we're implementing convenient phone, video or off-site interviews for all potential employees. Once you've applied and are selected for an interview, an Edgewood team member will contact you to schedule an interview and assist you with the necessary steps and tools to complete your virtual interview.
Employees helping employees
As more and more schools are temporarily closing their doors or suspending classes, it causes a trickle down to millions of workers that may not have a quick and easy plan B for childcare when they need to report to work. Check with your local Edgewood community (you can find a community HERE) to see if you can take advantage of the "buddy system" with other Edgewood employees working different shifts, to help temporarily share childcare responsibilities, drop-offs and pick-ups, meal and snack prep, etc.
If you aren't an Edgewood employee or looking to become one, but may be able to offer affordable childcare options to local Edgewood employees in a pinch – please reach out to your local Edgewood community!
Reach out to your local Edgewood community
We can't say it enough – we'd love to hear from you (via email or phone of course; no visitors during this time). Please reach out with ways you can potentially help, no matter how small they seem. During times of uncertainty, it's important to support one another and step up when we can. Whether that's through taking advantage of one of the flexible permanent or temporary open positions, to best utilize your particular skill set, writing letters or making video or phone calls to local residents in need of a little goodwill or maybe just dropping off (in the designated outdoor delivery area of course) supplies such as puzzles, Sudoku books or even pizza for all the hard-working staff – your local teams will welcome the kindness.
For additional information regarding employment at Edgewood, please visit our Careers page. Should you have any questions regarding the coronavirus or Edgewood's related protocols, you can learn more HERE, or please contact us at info@edgewoodhealthcare.com.