When we're faced with hardships like health problems in life, all most of us want to hear is "Everything is fine." We want to know that even on our worst days, it's going to be ok.
More than 6 million Americans are currently facing Alzheimer's. The CDC tells us that at least 16 million caregivers in the United States are providing care for friends or family who suffer from dementia such as Alzheimer's.
We might anticipate that something like Alzheimer's could impact our parents, but what if it's your spouse or significant other?
Paul and Michelle's story
At just 56 years old, Paul Breen began to face early-onset Alzheimer's disease. With his wife and caregiver Michelle by his side, they quickly devised a plan for his future. Michelle formerly worked for the Alzheimer's Association as an RN, so they were very well-acquainted with Alzheimer's disease. However, no one, including them, is ever prepared to receive such a devastating diagnosis.
They created a plan early on so that Paul was still able to make decisions with Michelle regarding his future. For the almost 6 years following his diagnosis, Paul's time was filled with socializing, golfing, and spending time with loved ones. His decision to move to Edgewood came after an incident when he very quietly left home alone late one winter evening. Given the circumstances and the dangers of blistering cold North Dakota winters, they knew it was time.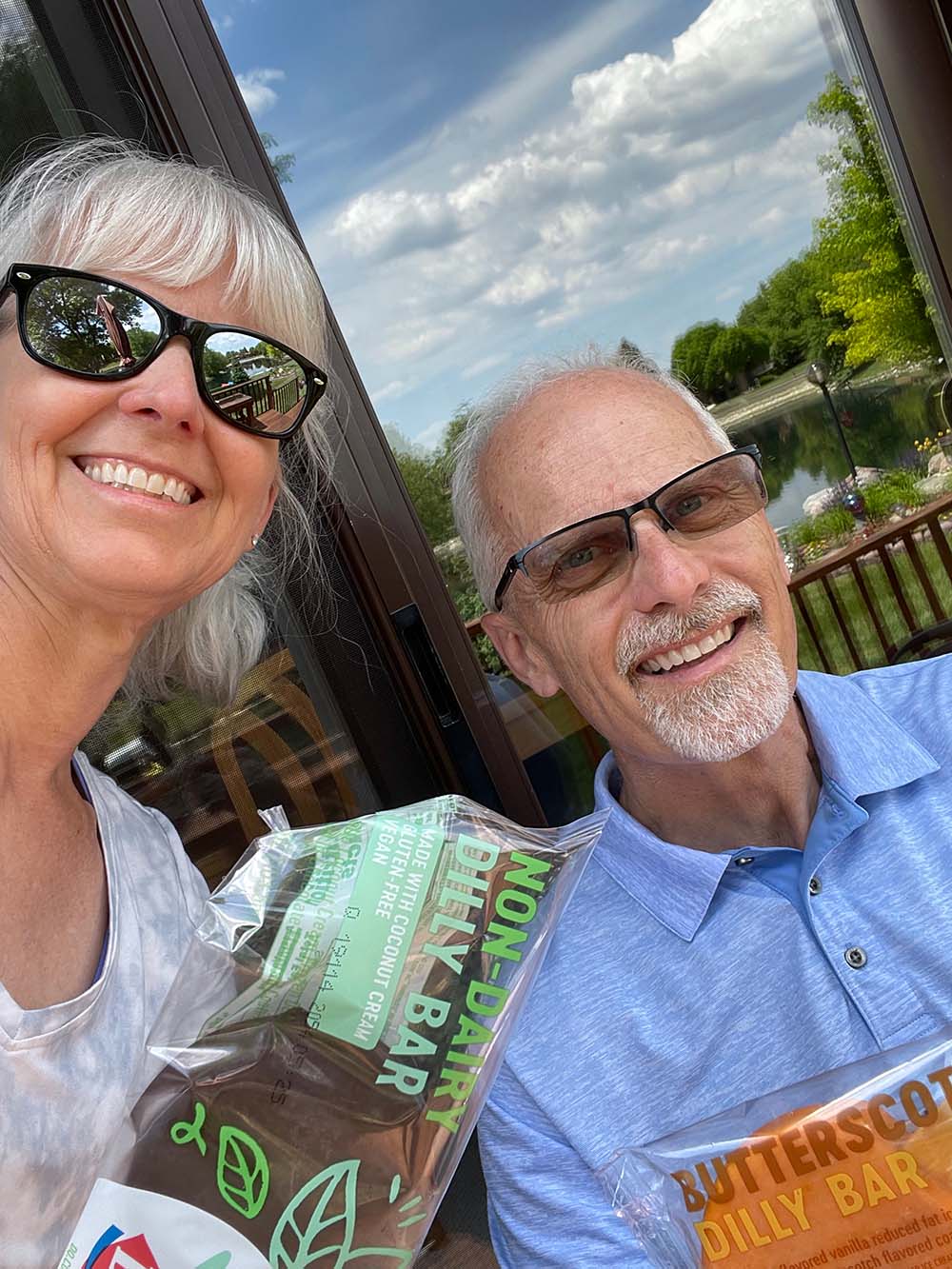 Finding help along the way
Leading up to Paul's move, he attended "Men's Club" at Edgewood Fargo, an activity that best fit his needs and interests, as part of their adult day service program.
Adult day services allow those who are experiencing memory loss to "stay for the day." During the week, Monday – Friday, those with memory loss can come in and receive personal care, meals, and activities that they enjoy; they can stay for an hour, a few hours, or the day, depending on their needs. Day services provide an opportunity for loved ones and/or caregivers to feel peace of mind while they have the chance to do things for themselves, too.
Using adult day services was a "toe in the water", as Michelle describes it, in helping Paul adjust to being at Edgewood. He began with day services, and when it came time for him to move, he was comfortable at Edgewood and he had friends there.
Unconditional love brings creativity
When Paul moved in, Michelle allowed him some time to acclimate by waiting several days to visit. They remained in phone contact and on a difficult day, Paul asked a staff member to help him place a call to Michelle. He got her voicemail, which was an automated greeting. Not hearing Michelle's actual voice confused and upset Paul, which was very apparent to her as she listened to his message.
Michelle decided to adjust her voicemail so that if Paul ever needed to leave a message, he could hear her voice and feel comfort and reassurance instead of worry. Her voicemail today now sounds like this:
"Paul, if this is you, everything is fine. I love you, go back to your room, and I'll see you in the morning. Have a good night."
Her greeting is such a powerful reminder that caregiving may shift, we may get a break, but we're never done being concerned for our loved ones. Michelle explained, "Caregiving never stops; you just get to take a little break."
Advice for caregivers and loved ones
Providing care and comfort during the hardest of times – even when we feel like we're crumbling inside – takes a toll. While there's no roadmap or textbook on how the Alzheimer's journey should be traveled, we do have a few suggestions to consider.
Keep hope alive. Hope for good days. Even with Alzheimer's, there will be good days; hopefully many. In reality, though, the disease will not simply disappear. Don't let the good days fool you. It's important not to let false hope compromise the safety of your loved one. Alzheimer's symptoms are tricky; someone may seem perfectly fine one minute, and they could quickly become unsafe the next.
Make a plan. If your loved one is diagnosed early, make plans as soon as possible so they can help to prepare for their future. These are NOT easy discussions, but it's far more difficult not to have the conversations, and then wonder what they may have wanted as you decide. Discuss finances, health wishes, and a plan of care. Think about who can help when their primary caregiver needs a break, or if they should become unsafe. It's important that once a plan is discussed, you stick to the plan.
Take breaks. Incredible guilt can take over when we need to take a break from caregiving, but breaks are very important. If a caregiver skips their own activities of daily living, they run the risk of taking a forced break due to health complications.
Finding support
Behind the faces of those who suffer from Alzheimer's, you'll find an incredible amount of unconditional love from their caregivers and families. Be sure to check in with them, too. They need comfort right along with the person who has Alzheimer's.
The Alzheimer's Association is a tremendous resource for families who are navigating this disease. Edgewood Healthcare worked with the Alzheimer's Association this year on an educational series featured on YouTube where you can access the three-part series. The series is an opportunity to learn more, such as the latest facts and figures about the disease, as well as ideas on how to manage your loved one's symptoms and changes.
If you or someone you care about could use support in managing Alzheimer's, please reach out to us at info@edgewoodhealthcare.com.