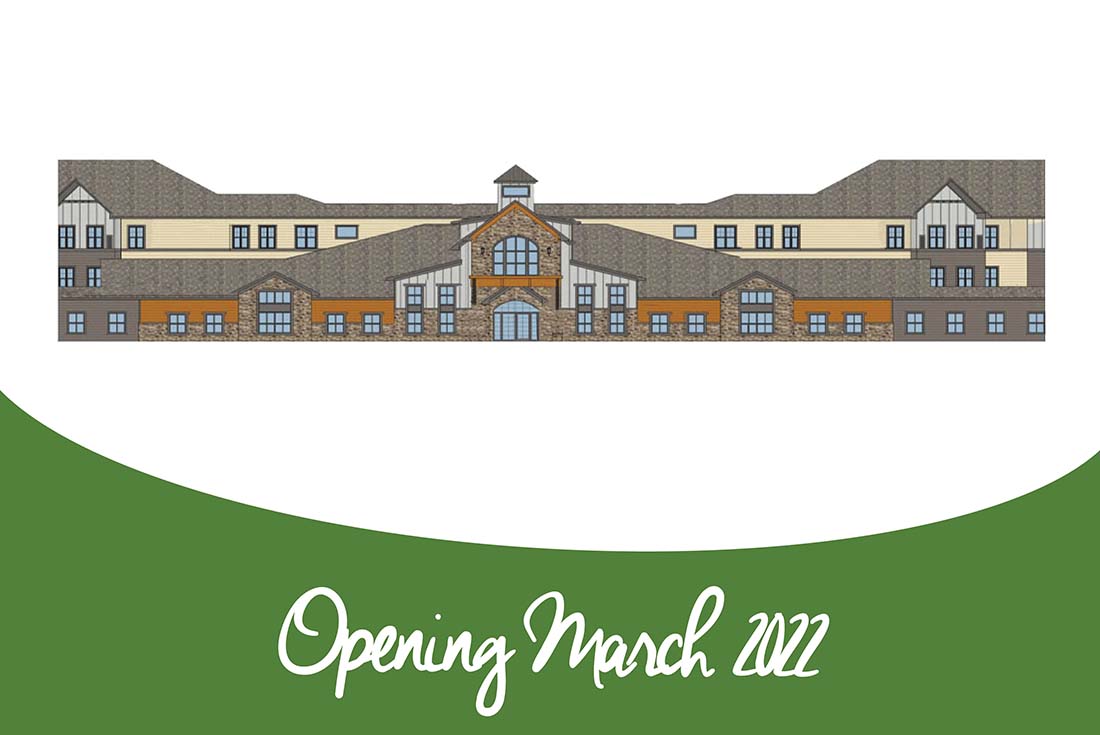 Edgewood Healthcare is excited to announce an expansion to their North Dakota operations, with the addition of a new Grand Forks community scheduled to open in March 2022. Edgewood Grand Forks will be located at 1800 47th Ave. S, Grand Forks, ND, and is adjacent to the Scheels Sports Complex.
Plans for the new development include 24 Independent Living cottage homes and 144 Assisted Living apartments, with a portion of those being designated as Memory Care units specially designed for those living with Alzheimer's or other forms of dementia. Proposed on-site services and amenities include a movie theater, coffee shop, salon, fitness center and chapel. Healthcare services, such as physical therapy and home health, will be provided on site, with Sanford Health designated as the on-site primary care provider in the community. The new Sanford Health Grand Forks Clinic is leased from Edgewood and conveniently connected to the new community.The new campus will be home to Edgewood's third Grand Forks–area senior living community. Edgewood Healthcare currently operates Edgewood Parkwood, 749 South 30th Street, Grand Forks and Edgewood Memory Care, 608 5th Avenue NW, East Grand Forks.
"Edgewood has a long history of providing quality care and services to seniors across North Dakota and the upper Midwest. We look forward to continuing that tradition today and for many years to come," said Phil Gisi, owner and CEO of Edgewood. "Plus, Grand Forks is home to our company, so it only makes sense that we continue offering high-quality, consistent and innovative care to the seniors that are right in our own backyard," he continued.
Additionally, Robert Ford, Jr., President of Edgewood Healthcare's Senior Living division, has announced that Eric Hoffmann will serve as Executive Director of Edgewood Grand Forks. After successfully completing Edgewood's Executive Director in Training Program (EDIT), Hoffmann was promoted to Executive Director at Edgewood Memory Care in East Grand Forks, where he's served for the past 3 years.
"Eric's strong leadership style and competitive nature make him the perfect person to guide this Grand Forks team through a successful community opening and beyond," said Ford. "We look forward to improving the ease of access to a wider range of senior living services and healthcare options for our friends and neighbors in Grand Forks," Ford continued.
About Edgewood Healthcare
Edgewood Healthcare is the leading operator of senior living communities in the upper Midwest. Since 1992, Edgewood has been committed to helping seniors stay as independent as possible, for as long as possible, with well-trained staff members in communities designed for residents to receive various living and care options. Currently, Edgewood owns and/or operates 64 independent living, assisted living and memory care communities with over 4,100 beds in seven states (North Dakota, South Dakota, Minnesota, Montana, Nebraska, Wyoming and Idaho), and employs nearly 3,300 people. Edgewood Healthcare's corporate offices are located at 322 Demers Avenue, Suite 500, Grand Forks, N.D.