When people think of seniors moving into assisted living communities, they often picture one person. In reality, as the average lifespan increases, many couples make this major transition together. If you have parents who are aging, you may be considering helping them do the same. Even though they have each other while living independently, this doesn't mean they couldn't benefit from the services provided at a senior community. Read on to learn more.
Addressing changing healthcare needs
The very job of assisted living communities is to provide for seniors as they age. This may mean a senior moves into independent living and then has health issues that require a change to assisted living. With two people, who likely want to share a room, this can be tricky. The residence can be tailored to cater to both individuals' needs, or the couple can live separately, one in independent living and the other in assisted living. This is often the case with couples who have one partner that requires memory care due to Alzheimer's disease or dementia.
The senior who is in better health and doesn't require extra services can rest assured that his or her loved one is in good care and can still visit often to keep the relationship alive. Adult children may be surprised to see how well their parents thrive in senior care communities even when they live separately. No longer having to care for or receive assistance from a spouse can relieve a major burden from everyone involved.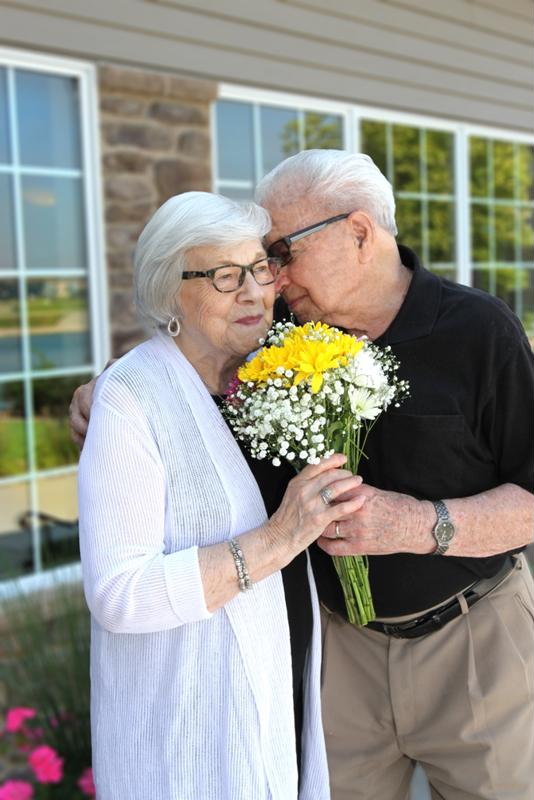 Discussing intimacy policies
Seniors can still have active sex lives as a couple after moving into senior living. Independent and assisted living communities aim to promote privacy, maintained independence and allowing residents to enjoy their golden years as they choose. If one of your parents is in a memory care community, it may seem like a touchy subject, but seniors have their right to enjoy time together just like younger folks. Some memory care communities may have intimacy policies so the other parent will need to talk with the staff.
Understanding adult day services
It is not unheard of for families to have older parents move in with them so they can provide care to the couple without moving them into an assisted living community. This can be a wonderful experience for everyone involved, but not every family has the time or space to provide such care. Some senior living communities offer adult day services where seniors can spend hours every day in the care of licensed professionals. This way working adults can know their loved ones are being well cared for while they are at work, for example. Adult day services are also a great opportunity for caregivers to take time to themselves to rejuvenate, run errands or take day trips.
There are senior living services for every level of care imaginable. You're sure to find a solution to ensure the happiness and well-being of your aging parents.