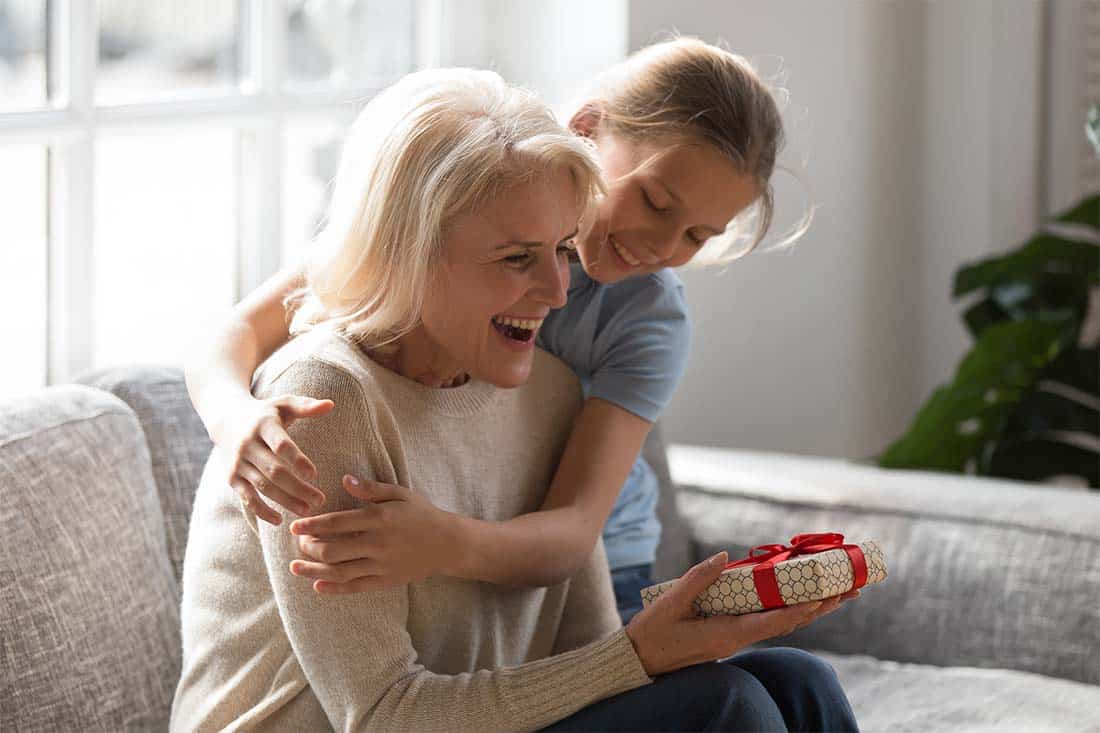 Sparklers, snakes, a singing fish for the wall perhaps? Absolutely not! But what do you buy for the ones who have everything they need? Better versions of what they can use, of course!
Here are ten gift ideas for the holidays—or any occasion that can brighten a senior's day:
1. Your time
Spend an evening at home together, take a day trip somewhere fun, or just be present with your loved one whenever you can. Time is by far the most precious gift we can all receive from those we love.
2. Make memories
A photobook, scrapbook, or other keepsake makes a personalized and thoughtful gift for any senior. Plus, they'll likely spark some fond memories for both of you.
3. Media
While a new high-definition TV is always fun, how about a new larger-print best seller or an audio book? Loading music or videos that your loved one can appreciate (on a device that they can easily use) is a great gift idea. New calendars with special events already written in for your loved one can be a nice way to highlight all of the fun times ahead.
4. Clothing and footwear
Clothing that meets the need for both style and function is a practical gift idea. Maybe your loved one has had a change in their clothing needs, or perhaps they like political shirts that have hit your last nerve—perfect time for a gift! Bright colors and new duds are just the thing. Footwear such as grippy socks or supportive, easy-on, easy-off footwear that can help reduce their fall risk is always a real win, too!
5. Go go gadget:
Helpful gadgets such as universal TV remotes (larger buttons can be a plus), reaching devices, hand-held showerheads or maybe a new reading device are all hits. Don't forget the batteries, and please work with your loved one or their caregivers so the gadget you gift is easy to use!
6. Plush toys
Soft teddy bears are always fun, but there are a variety of life-like robotic cats and dogs on the market that seniors and their adorable grandchildren can enjoy together.
7. A cozy blanket
Warm up their holiday season—and our long winters—with a plush, easy-care blanket. If you can wash it before you gift it, so it's ready to enjoy, even better!
8. A communication device
How about an easy-to-use cellphone or perhaps an emergency response unit (pendent or bracelet) so your loved one can easily access emergency services? Personal response units have come a long way; there are even units with GPS devices that can be used to alleviate wandering or alert providers quickly of falls.
9. Toiletries
Soap-on-a-rope or a long-handled back brush are always nice ways to make bath time more enjoyable and safer.
10. Food
Take your loved one to their favorite restaurant or bring them their favorite dish or traditional foods that you know they love. After all, food is usually the way to most people's hearts!
For further reading on how to support loved ones during the holidays, please check out our blog "Your Mom Has Alzheimer's. Now What?" This blog highlights some ways that visits, especially holiday celebrations, can be adapted to be more meaningful in a way that meets your loved one's needs and preferences for holiday and other visits.
For additional information or if you have any questions, please contact us at info@edgewoodhealthcare.com.